Press Room
Thank you for your interest in Wisconsin Dells, WI. The Press Room is designed for those interested in featuring Wisconsin Dells in an article or publication. 
Press Kit
Download a high-resolution logo by clicking on a picture below. If you need another format, please contact us.
Hot off the Press
News released are posted as they become available. Click on a title to open the PDF.
What's New Blog
Stay up to date with everything going on in Wisconsin Dells at our blog. Stop in to find out what the Wisconsin Dells Travel Experts have to say about the latest attractions, events, and travel savings.
Cool Off With A Cocktail!
It's hot outside and nothing refreshes you more than a nice, cold drink! With so many different dining options, and a limited number of vacation days in Wisconsin Dells, it may be difficult to narrow down where to find the area's best cocktails.  Don't worry, we've done the hard work for you (we didn't mind […]
How Big is the Wilderness Resort?
Back in June of 1995, the Wilderness Hotel & Golf Resort opened their doors with 79 hotel rooms, FortWilderness Indoor Waterpark, two outdoor pools and a spa. Nearly 23 years later, the resort consists of 444 guest rooms, 40 vacation villas, 76 Frontier Condominiums and 35 cabins! The Wilderness Resort is ALSO home to Wilderness […]
Waterparks with Day Passes in Wisconsin Dells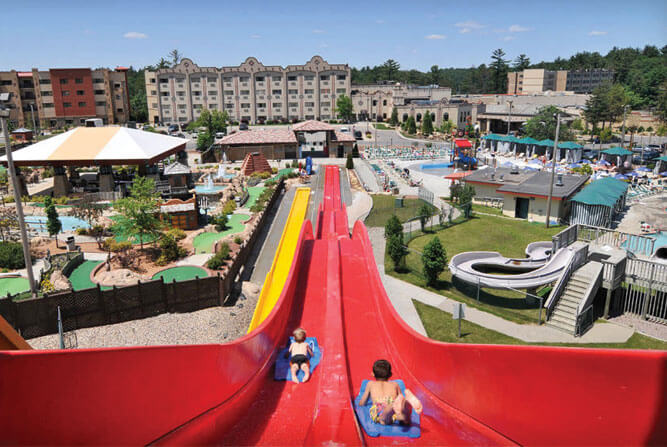 Some of the best trips are ones that are just taken for the day to get away! If you don't want to spend the night but still want the full adventure, a waterpark day pass may be the right option for you. Whether feeling the need to float on the lazy river, conquer some thrilling […]
Have you ever wanted to treat yourself to lunch but you can't find anyone to join you? Sometimes, having a little "me time" and grabbing a meal by yourself can be relaxing. Whether catching up on a good book while waiting for your food to arrive or getting some work done on your laptop while […]
Independence Day in Wisconsin Dells!
Wednesday, July 4th is Independence Day, which marks the anniversary of America's Independence from Great Britain. Most of us spend the day celebrating our freedom by grilling out, heading out on the water, or spending time outside in the sunshine. No fourth of July is complete without an amazing fireworks display. You'll find plenty of […]