Wisconsin Dells Special Offers
Save big throughout the Wisconsin Dells and Lake Delton area on lodging, dining, and more. Specials are updated often and directly by the businesses themselves. To filter searches within a category and/or date range, select the options below. Don't forget to check out our coupons for even more savings!
Note: All information for the special offers and deals listed here has been provided directly by each business. Please contact a business directly for deals or special availability, details, and pricing. 
Friday Night Fish Fry at Moosejaw
@ Moosejaw Pizza & Dells Brewing Co.
Friday Night Fish Fry at Moosejaw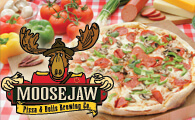 Special Offer: Moosejaw has the best beer battered or baked Icelandic Cod in the Northwoods. Served with coleslaw, mini beer bread with honey butter & choice of starch; we're sure to satisfy your hunger. Starting at 4pm on Fridays -18.99
×