Moosejaw Pizza & Dells Brewing Co.
Locally owned, Moosejaw Pizza & Dells Brewing Co. is centrally located between Chicago & Minneapolis in the heart of Wisconsin Dells, Wisconsin. Moosejaw seats 600+ customers within the 3 levels of our full service restaurant which specializes in fresh, piping, hot pizzas (with dough made fresh daily)! Moosejaw also features freshly prepared comfort foods such as burgers, pastas, salads, sandwiches, entrees & kids' meals. With Moose Antlers to wear, 3 bars & a large arcade, we are sure to become a Family Favorite!
Moosejaw is Wisconsin Dells' only brewpub! Our hand crafted brews travel straight from our brew tanks to your glass…now that's what I call fresh! We feature 10 Microbrews on Tap plus we bottle & can our favorites on-site, so you can take home brews to enjoy after your vacation. Stop in for a sample, stay for a pint & take home a single, 4 or 6 pack, case or growler of Wisconsin Dells Brewing Co. microbrew (you can even mix & match)! And don't worry, we have Classic Sodas available in bottles to go, too.
We love large groups, sports teams & all of your extended family, but we don't take reservations at Moosejaw, it's first come, first serve. If you're looking to book a private room for your group of 20 or more, contact Group Sales to tell us about your needs. Otherwise, just head on in & we'll take care of you like you are family (from the side that we like)!
Large Groups Welcome! Family Friendly! Free Delivery!
Dining:
Full Service
Carry Out
Delivery
Lunch
Dinner
Desserts
Beer/Wine
Cocktails
Kid Friendly
Pizza
American
Casual
Brewery Pub
Italian
Vegetarian
Barbecue
Seafood
Catering
Free Printable Coupons
Limited Time Offers

Friday Night Fish Fry Special
Friday Night Fish Fry Special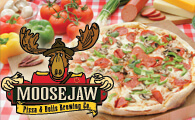 Special Offer: Moosejaw has the best beer battered or baked Icelandic Cod in the Northwoods. Served with coleslaw, mini beer bread with honey butter & choice of starch; we're sure to satisfy your hunger. Starting at 4pm on Fridays.
×

Saturday Night Prime Rib Special
Saturday Night Prime Rib Special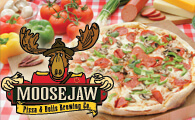 Special Offer: 12 oz. slow roasted, succulent prime rib cooked to your liking. Served with roasted seasonal vegetables, dinner roll, au jus, side of horseradish PLUS your choice of starch PLUS your choice of a house salad or crock of soup. Available on Saturdays after 4pm.
×
Check out other coupons and specials for more great offers you won't want to miss, exclusively from Dells.com!