Original Wisconsin Ducks®
Welcome aboard Wisconsin Dells' most thrilling and unforgettable adventure, now in our 75th anniversary season! Since 1946, Original Wisconsin Ducks has delighted generations of happy riders, with an amphibious experience — Fun! Adventure! On land and water!® — that's as unique as the vehicle itself.
"Ducks" were the nickname given to DUKWs, the U.S. Army's code for amphibious trucks built to carry troops and supplies during War II. After an outstanding service record that stretched from Sicily to Normandy to the South Pacific, the ducks were retired to civilian life — and promptly began tour service as Original Wisconsin Ducks. These versatile vehicles are ideal for travelling through the breathtaking natural beauty of Wisconsin Dells, revealing sights not seen anywhere else. The one-hour adventure features exclusive wilderness "duck trails" that wind through evergreen forests, over roller coaster hills and through breathtaking gorges, enroute to thrilling splashdowns in the Wisconsin River and Lake Delton. Your duck pilot serves as both pilot and guide, relating Dells history, legend and a good helping of humor while skillfully navigating the 8.5-mile land and water route.
With a fleet of 92 of these amazing vehicles, Original Wisconsin Ducks is the largest duck operator in the world and the longest continuously-operating duck tour, and takes great pride in preserving the novel fleet while keeping safety at the forefront. Original Wisconsin Ducks operates daily from the Duck Dock at 1890 Wisconsin Dells Parkway (Hwy 12), from mid-March through mid-November, with tours departing every few minutes during peak summer season. Climb aboard for a classic Wisconsin Dells adventure, 75 years in the making!
Featured Savings
Buy an Adult get a Child
Restrictions may apply.
Wisconsin Dells Splash Card - 2-for-1 Discount Card in the 2020 Super Splash Pass


Get this coupon and over 100 more when you buy the Super Splash Pass.


Buy an Adult get a Child
15.00 Value
Restrictions may apply.
Get Splash Pass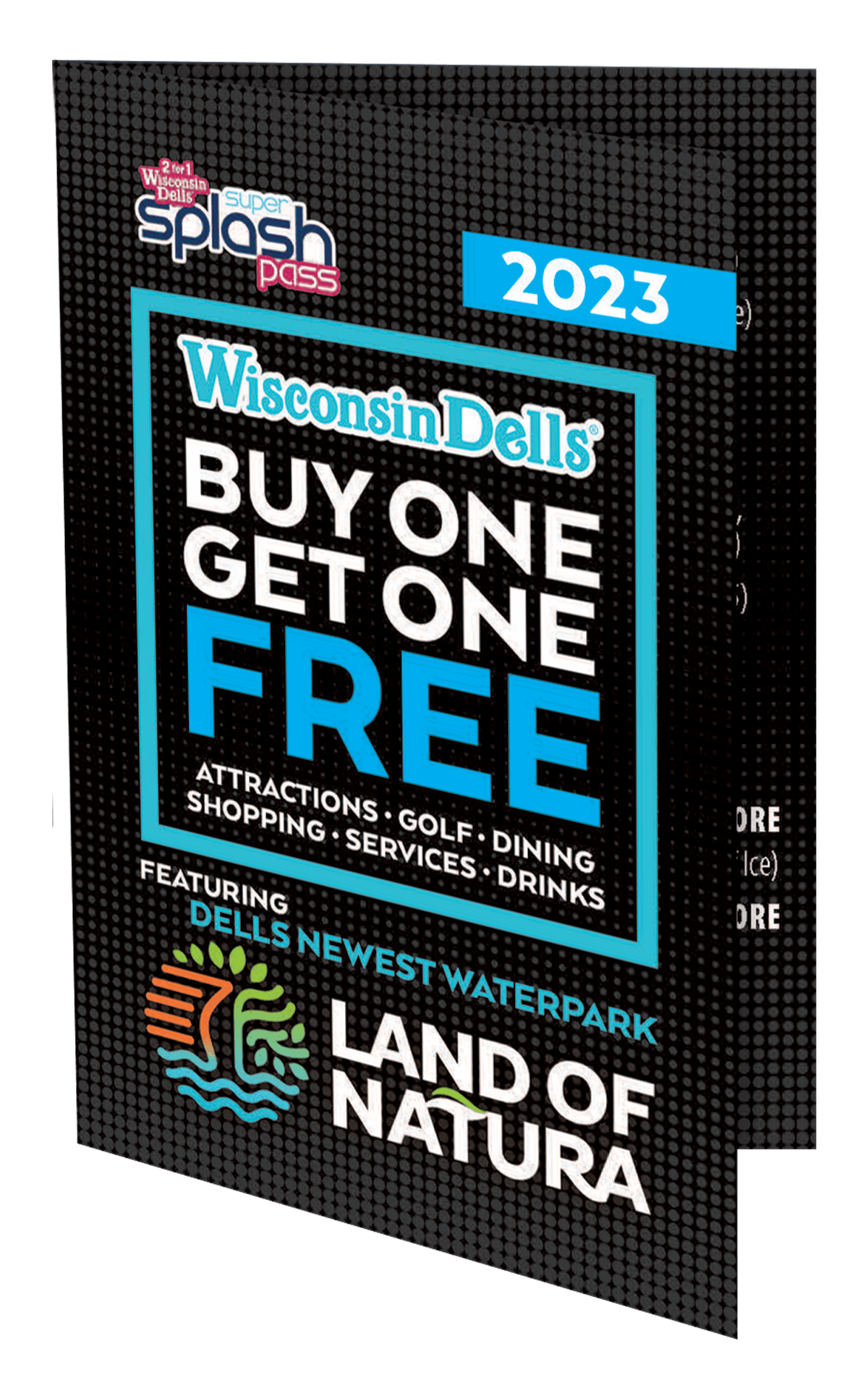 ×
Check out other coupons and specials for more great offers you won't want to miss, exclusively from Dells.com!