Special Offer Preview:
Below is a preview of your special offer. Click on the offer to display details.
Only $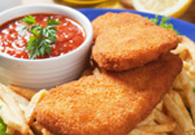 Offer Valid: December 4, 2017 - December 31, 2018
Special Offer: Friday Fish Fry- Batter-fried Icelandic Cod served with a dinner roll & choice of 2 sides: fries, sweet potato waffle fries, mashed potatoes with gravy, baked potato, baked beans, coleslaw or steamed broccoli – 10.99. Available from 11am-10pm.
×