For 65 years the Tommy Bartlett Show, staged on beautiful Lake Delton, has captivated audiences of all ages. Tommy Bartlett began his long and celebrated career in showmanship, in radio broadcasting at the tender age of 13. His thrilling water-ski shows have since toured the world and entertained over 50 million delighted fans.
Summer 2017 goes full throttle, from Memorial Day weekend to Labor Day weekend, when the world-renowned Tommy Bartlett water-ski team revs up the action. With high-flying tricks and lots of fun, the Tommy Bartlett water-skiers pay tribute to "Summer Vacation," where they show that while the tans may fade, the memories last forever! The summertime extravaganza features a mix of fast-paced trick skiing, barefooting, jumps, flips and high-powered boat maneuvers.
Don't miss the return of the FlyBoard, an amazing water-jet-propelled pack that powers its rider high into the sky to perform flips and twists, then diving back down into the water.
This electrifying Show also brings family-friendly comedy to the act. Laugh with your children as Aqua the Waterskiing Clown delights them with his clumsy water antics.
On shore, world-class thrill performers keep the adrenaline pumping with breath-taking feats and a mix of light-hearted humor. Back for his second season and as seen on NBC's America's Got Talent, Christian Stoinev and his sidekick Scooby perform amazing acrobatic balancing acts! The Nerveless Nocks climb aboard their Wheel of Destiny, executing death-defying tricks inside and atop their 65-foot-tall double wheel as it swings end over end. The Fausto Scorpions balance, spin and propel each other into the air performing flips and twists, using only the power of their feet and legs. TJ Howell, along with his son Carson, juggles everything but the kitchen sink, while mixing in some light-hearted humor!
A dazzling display of lights, music and color make up a grand finale during the evening show that you won't want to miss. You'll be impressed by this moving tribute to our nation and those who serve to protect it.
It's what summers are made of – action, adventure, music and memories on the lake!
Attraction:
Featured Savings
20% Off General Admission for Your Entire Party!
Restrictions may apply.
2018 Wisconsin Dells Coupon Book


Get this coupon and over 400 more when you buy the Original Wisconsin Dells Coupon Book.


20% Off General Admission for Your Entire Party!
Restrictions may apply.
Get Coupon Book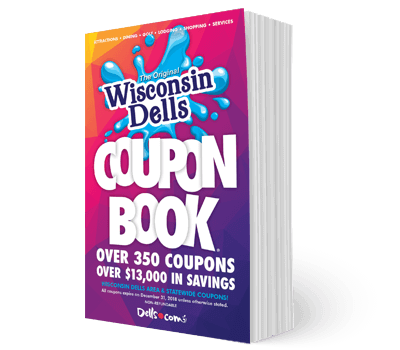 ×
Check out other coupons and specials for more great offers you won't want to miss, exclusively from Dells.com!