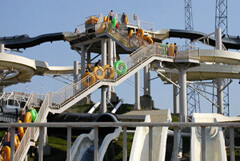 You're standing on a platform high above a cool blue pool of water many feet below. The water beckons to you. Your kids are poolside waving and calling for you to go. The only way to get there is down the waterslide. You ask yourself, "How did I get here?"
Where will you find the best and most massive waterparks in the World? In Wisconsin Dells, of course! If you're reading this, a waterpark vacation may be in your sights. You can seek out whatever sort of waterpark adventure you and your family desire. Take a breathtaking ride down a waterslide that is stories high, or just turn the kids loose and laze around the wavepool for the whole day, lounging in the sun. Waterparks are fun for everyone of all ages. You and your family will love your visit so much you'll soon be planning to head back.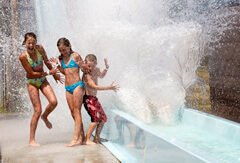 A trip to Wisconsin Dells has never been more exciting, especially if you enjoy being in the water! Families will appreciate the close proximity of the area waterparks, theme parks and Wisconsin Dells resorts which feature luxury rooms, such as the Polynesian Water Park Resort Hotel & Suites Wisconsin Dells. The ever-expanding Wisconsin Dells Waterparks in this playland have so many aquatic rides and attractions, it's hard to know which ones to pick. With numerous indoor waterparks and outdoor waterparks in the Wisconsin Dells area, Wisconsin Dells proclaims itself the "Waterpark Capital of the World".
Whether you're looking for indoor or outdoor water parks for your getaway, Wisconsin Dells has everything you're looking for. Visitors have access to many waterpark attractions, Noah's Ark Family Park, Mt. Olympus Water & Theme Park and Kalahari Water/Theme Park, along with many other top visitor destinations in Wisconsin Dells. It's easy to stay where you play!
Your family should come prepared for a rollicking good time at the Waterpark destination of your choice. Did you forget something? Never fear! There are many excellent stores available in Downtown Wisconsin Dells, and at the waterparks and resorts. You can find beach attire, swimsuits, sunglasses and other sun accessories. For the more serious shop-till-you-drop experience, The Tanger Outlet Center is located at I-90/94, Exit 92 on Hwy. 12.
All that fun and enthusiasm at the waterpark is going to make your family awfully hungry. You can have lunch and refreshments at a poolside tiki bar during the day, and then go all out for a scrumptious meal at one of Wisconsin Dells' many restaurants. Many of the waterpark resorts also have several restaurants on site. Later on, have a night on the town! When you get your second wind, there are dozens of places to enjoy the Wisconsin Dells Nightlife while you are in the area. Check out the nightlife scenes at local pubs, restaurants, theaters and more.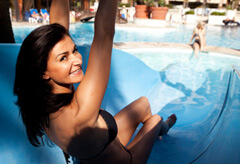 The Wisconsin Dells area is truly your best destination for waterpark fun for families, couples and groups of all kinds. Define your own waterpark paradise your own way. What better way to spend a family vacation than at the country's largest water park community?
OK, now go ahead and take the plunge. You deserve it!