Wisconsin is a state that embraces beer-drinking with the fervency of religious devotion—albeit a fervency tempered by the conviviality that's always at the heart of Midwestern hospitality. Milwaukee is a global icon of the beer industry, after all, an association written into the name of the city's professional baseball team, the Brewers. For many, beer is the preferred accompaniment to some of the Badger State's prime culinary delectables, from bratwurst to pretzels to cheese, and it's certainly the preferred accompaniment to a Packers game at Lambeau Field or on the screen.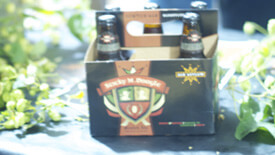 Pay a visit to the Dells on Tap beer extravaganza in Wisconsin Dells some autumn, and you'll begin to get a sense of the breadth of the modern Wisconsin beer industry. There are still large-scale stalwarts of American brewing history with strong Wisconsin roots, such as Leinenkugel's and Miller, but the rebirth of the American craft brewing tradition—nicely synchronizing with other back-to-basics culinary trends, like the local-food and farm-to-table movements—is as alive and well in the Upper Midwest as it is in Oregon or Colorado. It's exciting to think of a return to the days when many of Wisconsin's towns and cities had their own local beer, a legacy still apparent on the landscape today in the form of noble, oft-dormant brewery buildings in every corner of the state. Old and new generations of brewmasters have recaptured that spirit and joined an international community devoted to the vitality of traditional beer styles as well as pushing the hops-and-grain envelope. From Superior to Milwaukee, from La Crosse to Door County, Wisconsin brewers are turning out fine suds that are as celebratory and evocative of place as they are refreshing on the tongue.
The revival of craft beer gives you the chance to explore the true variety of this ancient beverage. If you're one of those who's just "never liked the taste of beer," don't pronounce your final verdict until you've at least casually surveyed the backroads and frontiers of beer geography: It's not all just about light lagers and pilsners, after all. Consider the lineup at the Dells Brewing Company, based here in Wisconsin Dells: You might sample the rich darkness of the Coffee Stout, the crisp cidery bite of the Apple Ale, or the hoppy goodness of the Rye India Pale Ale. Meanwhile, the robust, earthy sight alone of the Potosi Brewing Company's Gandy Dancer Porter will surely set your mouth to watering.
"Wisconsin… Remember this, you are not, you are NOT alcoholics. You – and my hat is off – are professionals!" – Lewis Black
Wisconsin's proud Germanic heritage doesn't mean its craft brewers don't take some of their cues from the grand, colorful, evocative world of Belgian brewing. No investigation of Wisconsin's culinary heritage is complete without a taste of New Glarus Brewery's world-famous Wisconsin Belgian Red, which will have you bowing to the cherry gods of Door County. A quaff of the Potosi Brewing Company's Wee Stein Wit, a light, citrus-tinged exponent of the Belgian white-ale style, is heavenly on a sweltering summer afternoon. On the other side of the calendar, when the snowdrifts are piling up and the lakes are iced over, take a bit of caramel-infused comfort in the elegant Mercy beer—a Belgian Grand Cru—out of Ale Asylum in Madison.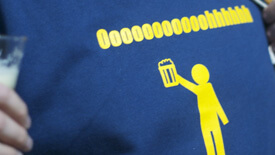 Even as these innovative craft brewers experiment with new ingredients and brewing methods, lovers of American lagers and light pilsners find plenty to rave about in Wisconsin brewpubs and beer halls. Take the flagship lager of Sconnie Brewing Co. in Monroe, an outfit dedicated to honoring Badger State culture with every six-pack of Sconnie Beer. Capital Brewery in Middleton offers up a wide range of beers, but takes its guiding philosophy from the venerable heritage of German lagers—among the world's most popular and influential styles of brew. At Dells Brewing Company, the traditionalist will happily settle down to a pint of refreshing Dells Pilsner.
Whether you're tracking down a seasonal specialty beer or reaching for a year-round go-to brew, you'll learn soon enough that the world of Wisconsin beer overlaps and integrates with that of its rich cuisine. It's no longer wine alone that's judged for its applicability with certain dishes: Beer-and-food pairings are all the rage, and a logical reflection of the immense flavor spectrum craft beers encompass. You can dive headfirst into the culinary side of beer-appreciation at the Great Dane Pub and Brewing Company in Madison, which has an immense tap list—naturally including the Great Dane's own distinct brews, from the Devils Lake Red Lager to the Woolly Mammoth Porter—to complement its menu. Wisconsin's brewmasters are happy to share tips on food pairings: Pearl Street Brewery, based in La Crosse, touts the amenability of its standout D.T.B. Brown Ale with everything from spicy curry dishes to venison, while the Dells Brewing Company recommends its Rustic Red with pizza or barbecue.
Some of these breweries are old veterans: Gray's Brewing Company has been whipping up beer—and quality sodas—in Janesville since 1856, and Stevens Point Brewery started up a year later. (In other words, these commenced within a decade of Wisconsin's statehood.) Milwaukee's Lakefront Brewery, which got its start in 1987, nabbed a few firsts in the American beer industry: It's the oldest brewery in the U.S. that's certified organic, and it also unveiled the first government-certified gluten-free brew. Other breweries are young upstarts, like Shorewood's Big Bay Brewing Company, founded in 2009, and American Sky Beer and Wisconsin Dells' own Port Huron Brewing Company, both born in 2012. When you sit down to a frosty mug of Wisconsin beer, you're imbibing a living history—can't you taste it?
Wisconsin beer culture is all about the down-home bonhomie, whatever the setting. It might be a tailgate party at a Badgers game, where we happily survey a boisterous sea of red and white under the towering buttresses of Camp Randall Stadium. Maybe it's the corner bar during deer season, when the air's smoky, the woods husky, and the talk equally devoted to the Packers' playoff chances and the monster whitetail buck sure to show up tomorrow. Summertime grilling demands beer: The finest Wisconsin brats even spend awhile simmering in a potent cocktail of homegrown beer and onions before—or after, depending on your methodology—their stint over the coals. Beyond a friendly pub or an extended grill-fest, Wisconsinites and their guests toast one another in upscale restaurants, too: Remember those beer-and-food pairings!
Dells on Tap and other beer-focused festivals are wonderful ways to embrace the tradition and the creativity of Wisconsin's brewing heritage with open arms. You'll be surrounded by fellow beer-lovers ready to raise a joyous cheer in the name of high-quality brews—in the name of Wisconsin culture itself. Bring your pencil—or your smartphone—and jot down notes on the beers that particularly impress you, and make a commitment to track down their home bases. What better way to structure a Wisconsin road trip than from brewery to brewery? Start off at Dells and Port Huron brewing companies right here in Wisconsin Dells, and see where your pursuit of the perfect pint takes you!