The holidays are over, but we've still got a lot more winter to look forward to! Whether you're an avid outdoor adventurer looking for skiing, snowmobiling and snowshoeing, or someone looking to escape the cold for somewhere warm, relaxing, and rejuvenating- the Wisconsin Dells has something for you this winter.
---
OUTDOOR FUN:
Cascade Mountain– Skiing and Snow Tubing
Cascade Mountain has over 160 skiable acres. With a base 820 feet and a peak at 1280 feet Cascade Mountain has a vertical drop of 460 feet. The Cascade Mountain area produces almost five feet of snow per year, supplemented by snow making machines that can produce full coverage of the trails. There are plenty of lifts too, with 10 available, including a fast moving detachable quad chair lift.
Christmas Mountain– Skiing, Tubing and Snowshoeing
Skiers can take advantage of 16 downhill runs and a wide variety of trails. Swoosh down slopes suitable for beginners as well as black diamond slopes perfect for those seeking the ultimate winter thrill. For breathtaking views of Wisconsin's landscape, enjoy an energetic afternoon of cross-country skiing. For more slippery fun, try tubing. On-site tube rentals are available along with handle tows to bring your tube back to the top of the hill.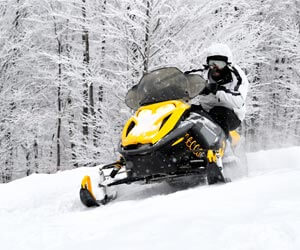 Sauk County – Snowmobile Trails
With around 211 miles of snowmobile trails, Sauk County has a lot to offer when winter rolls around. Snowmobile trails loop through just about every village and city in Sauk County, with many rest stops along the way.

Juneau County – Snowmobile Trails
Juneau County boasts over 240 miles of snowmobile trails. Trails are maintained by seven clubs within the county. Please follow the rules and regulations. Respect the landowners by staying on the trail.
Adams County – Snowmobile Trails
Adams County boasts over 200 miles of state-funded, well-groomed, well marked snowmobile trails. Many Adams County businesses and restaurants have snowmobile parking and loading areas. There are a score of snowmobile clubs and associations. Area businesses and clubs sponsor several snowmobile races and events during the winter months – and even a couple in summer.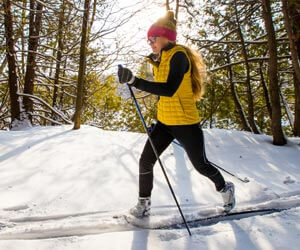 Mirror Lake State Park – Cross Country Skiing Trails
With over 17 miles of groomed cross country ski trails, Mirror Lake is a popular winter recreation area.  You will find most trails within the park are open to XC skiing.  We have highlighted a map for you just to make it a bit easier to see the XC trail areas.
Devil's Lake State Park – Cross Country Skiing Trails
Devil's Lake has over 5 miles of XC ski trails, however, as of Jan 2018, these trails have been designated "Multi-Use" which means that other uses (hiking, snowshoeing, etc.) are allowed on the trail in addition to cross-country skiing. The park will pack the snow on the trail, but it will not be tracked.
---
INDOOR RETREATS:
Sand County Rentals– Vacation Homes, Cabins & Condos
Enjoy the fun and excitement of the Midwest's top vacation area; Wisconsin Dells. Over 60 restaurants and night spots, golf courses, riding stables, amusement parks and attractions, water parks and gaming facilities, shopping, skiing, fishing, boating, hunting, and natural splendor.

Spring Brook Vacation Homes & Condos – Cozy Vacation Homes, Cabins & Condos
Spring Brook is the only single-family vacation home development and resort in Wisconsin Dells, Wisconsin. Set on 360 wooded acres, the living here is easy, the amenities appealing and the lifestyle relaxing.

Island Point Resort– Cozy Vacation Homes, Cabins & Condos
A visit to Island Pointe is a visit to a simpler time, when days were spent lounging on sunny beaches or casting a line into rippling waters, where the whispering wind lulled you to sleep and crystal starlight lit your path in the deep shadows beneath the fragrant pines.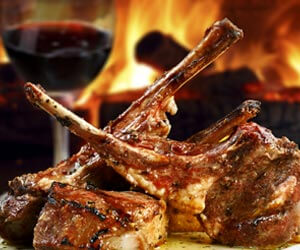 The Del-Bar – Romantic Fireside Dining
This is a place where you don't rush through a meal, after all, that's what the Wisconsin supper club experience was always intended to be. That holds true whether it's a special meal the last night of a vacation or an impromptu happy hour gathering just because.
House of Embers – Romantic Fireside Dining
House of Embers is a traditional  Wisconsin Supper Club.  Come join us for a glass of fine wine and appetizer in the lounge by the fireplace.  Enjoy the Dells most unique fine dining experience in our main dining room or in a private romantic area for two.
Fields at the Wilderness – Romantic Fireside Dining
When you dine at Field's Premier Steak House, they will engage all of your senses. Field's selection of prime meats, chops and grilled seafood, along with top-notch service, will transform a simple night out into something exceptional. Savor remarkable cuisine in an intimate atmosphere surrounded by stone hearth fireplaces and distinct water features while toasting to the good life.
Outlets of the Dells – Fireside Shopping & After Holiday Deals
Enjoy saving 30-70% on over 60 name brands everyday at Outlets at The Dells! Fashion forward looks at significant savings. Shop in comfort this winter and enjoy the firepits and heaters which line the shopping runway.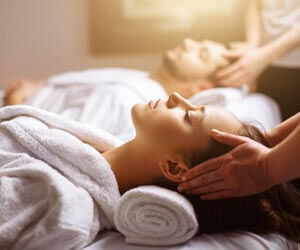 Sundara Inn & Spa – Relaxation & Rejuvenation
Sundara was ranked the #4 Best Resort Hotel in Travel + Leisure magazine's "World's Best Awards for 2018" as voted on by readers. Reserve time to energize your soul at Sundara, a sanctuary from stress tucked back in a fragrant pine forest on the scenic outskirts of Wisconsin Dells.
Spa Kalahari – Relaxation & Rejuvenation
Beyond Relaxation. A family vacation should have something special for every member of your family. Relax and rejuvenate your mind, body and spirit with amazing body treatments, luxurious massage, skin care, nail care and more.