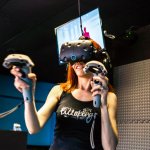 Forget everything you know about Virtual Reality and forget what you know about video games. This place is on a whole new level! Get your heart pumping and mind on high-alert when you experience one of the Virtual Reality games at VR Universe in Wisconsin Dells. Games are not just about violence and fight scenes anymore- these games actually provide learning experiences and use many senses of the body. Unlike normal VR Games where you have to wear a backpack with the computer on your back, the only gear is a headset with build-in audio, and a controller in each hand.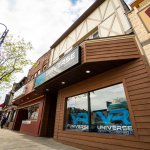 VR Universe offers the largest selection of virtual reality games in Wisconsin Dells (approx. 50), and you can choose games and scenes for all different ages and skill levels. There are the typical shooter games, but then there are unique ones where you can explore different worlds and scenes, such as a dinosaur playground paradise or an amusement park. There's also one where you take an elevator to the top floor of a skyscraper and then walk a plank over the edge. Even though your feet are flat on the ground in real life, you become so immersed in the game that your heart starts pumping and knees start trembling, as your mind is tricked into thinking you're about to fall off the skyscraper to your death!
There's no need to be nervous about picking the right game, since you can just change it as many times as you'd like, since you only pay by the amount of time spent there and not by the number of games you play! With single & multi-player games available, this is the perfect activity for the whole family, for a Birthday Party, or even a Bachelor Party!
Open year-round and with select hours in the off-season, you can find VR Universe at 321 Broadway in Downtown Wisconsin Dells!