A site like no other, if you visited Wisconsin Dells in the early 80's, you might remember driving near the downtown bridge and spotting a giant, white, round oddity resembling a house. That wasn't just any ordinary abode; it was Xanadu The Foam House of Tomorrow and one of the most beloved vintage Wisconsin Dells attractions.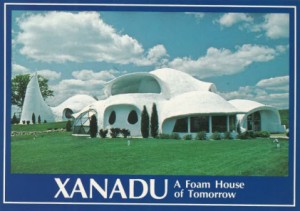 The concept was inspired by Bob Masters' foam house in Aspen, Colorado. Bob then built a home for Ken Forsythe in Wisconsin Dells. When people began flocking to catch a glimpse of Ken's foam home, Tom Gussel, Masters and Foysythe had the idea to build a second foam house as an attraction for visitors to enjoy.
What could be a better location for such an attraction than Wisconsin Dells? Charlie Van Wie offered his land near the downtown bridge (where Alamo Smokehouse is now) and construction for Xanadu began shortly after in April 1979. Designed by Boot Gordon and built by Masters, Gussel and Forsythe, construction finished quickly and the house was open for tours less than 3 months later (summer of 1979). The house was inexpensive and extremely energy efficient. At just $25.00 per square foot, the House of Tomorrow was estimated to have used a 1/4 the normal energy needed to heat or cool a house.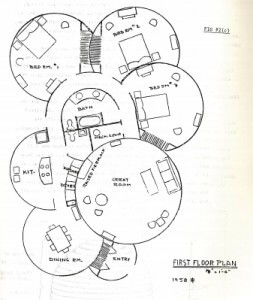 Just how is a foam house made? We sat down with Tom Gussel to figure out tips from the pros! Gussel explained, "take half of a hot hair balloon (so it creates a dome or hemisphere-like shape) and use dirt or bricks to strap the edges of the balloon to the ground". The next step is as simple as "blowing up the balloon until it's fully inflated, going inside the balloon and spraying it with polyurethane foam". Once the foam dries and is about 6 inches thick, just remove the balloon from the outside and enjoy! Gussel explained that "doors and windows were created by simply sawing out the appropriate shapes and sizes, placing in the parts (doors/windows), and sealing the corners with polyurethane to keep them in place". Gussel wrote a book on the entire process and sold it at Xanadu. The polyurethane used to create the house acts as a fantastic insulator and the dome shape mimics the strongest shape in nature.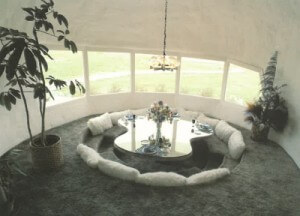 The layout of the house consisted of a main, large-domed great room and webbed into a series of interconnected smaller foam bubbles. The house included a variety of very unique features, including a 5-foot tall, 13-foot wide polyurethane champagne glass-shaped bed, a large polyurethane tree (which housed the cooling/heating systems), deck and a hot tub covered by its own plastic dome. The water/spa features of the home were the latest and greatest innovations from the Kohler Co.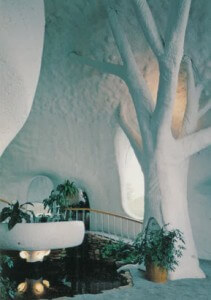 A giant stereo system completed the house and the foam made for great sound enhancement… so it's no surprise that the occasional party took place at Xanadu. The staff of Xanadu hosted a yearly party as well, charging everyone who attended a base fee at the door and giving proceeds to nearby towns or community members in need. The first year helped the town of Barneveld, Wisconsin, which was demolished by a tornado.
Xanadu was also home to yearly, themed staff parties. "During the toga themed party, a young guy ran out of gas near the house. When he knocked on the door to ask to use our phone, he was so shocked by the site of everyone in togas partying in this strange looking house that we felt compelled to offer him a drink" Gussel laughs.
Lasting as an attraction for about over seven years, Xanadu eventually closed its doors due to lack of interest from visiting tourists. If you were lucky enough to have visited Xanadu during its time, chances are you found yourself thinking, "I wish I could live here". Though we see a variety of attractions come and go in Wisconsin Dells, its always sad to say goodbye to standout attractions, such as Xanadu.