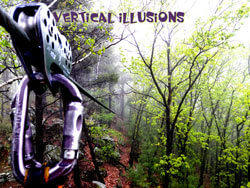 While the Wisconsin Dells has many attractions, few can bring a family together like Vertical Illusions. Here, families and friends are brought to new heights and pushed to their limits but in a way that strengthens not only their bonds but their bodies as well. Vertical Illusions helps people create memories while discovering an adventurous yet rewarding and healthy lifestyle that they will likely be inspired to keep up for the rest of their lives.
Vertical Illusions gives families and friends the opportunity to experience many different adventures. The summer months bring lush trees and sparkling waters, allowing for participants to rock climb, kayak and zip line. If anything, the intensity of Vertical Illusions heats up even more as the weather grows cold. The winter months bring ice climbing, cross-country skiing and snowshoe zip lining. They provide non-stop, year round excitement which is why Vertical Illusions is the Midwest's five star adventure center.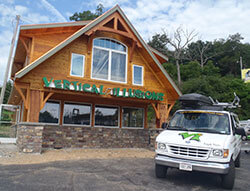 Summer 2011 brought new and exciting things for Vertical Illusions, as they are finishing up with the building of a brand new facility. The building's gleaming copper roof is hard to miss and truly captures the company's essence. Just as their rooftop is exciting, memorable and one of a kind, so is the experience you will have at Vertical Illusions. Their new building also brings about new opportunities as they now sell several lines of outdoor gear such as Northface and Patagonia. Now, you can purchase all of your necessary adventure gear after being inspired to become an outdoor sports enthusiast.
In fact, if you really do want to continue the excitement yourself, Vertical Illusions does rock climbing certifications. Of course their highly trained and capable staff has already completed all the necessary certifications and have a lot of experience. They are the tour guides that lead you and your family and/or friends through your private tour and complete the whole experience, ensuring that you have a great time. One very satisfied customer wrote the following on Trip Advisor about her guides: "John & Cassie were very enthusiastic about zip lining. They were also very knowledgeable about the environment citing many facts about the endangered species in the area…"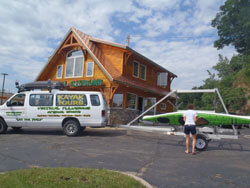 Speaking of Trip Advisor, Vertical Illusions is rated as one of the top attractions in the Dells area! This comes as no surprise as they provide some of the most breath-taking views throughout their tours in their private park, Chimney Rock. Vertical Illusions prides itself on being eco-friendly and keeping tours close to nature. They have a living zip line course, which is actually built into the trees, making their zip line tours a rare and beautiful experience in nature.
As mentioned earlier, Vertical Illusions takes each family or group out for their own private tour which not only allows for better bonding but an unforgettable experience as well. This also helps them to accommodate for all skill levels from advanced groups to beginners. So get your family and friends back to nature and zip line, kayak or rock climb with Vertical Illusions this summer. Help them inspire you and others to get into a healthier, more active and thrilling lifestyle.
Vertical Illusions tours vary in cost by activity and the size of your group. Zip lining tours can be up to 20 people, rock climbing up to 35 and the largest kayaking group has been 24 participants. For more information on Vertical Illusions, contact them by phone at 608-253-2500 or visit www.dells.com.
For more Dells Attractions visit our page on Dells.com