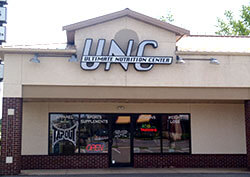 With Wisconsin dropping seven spots from the 11th healthiest state to the 18th, according to America's Health Rankings, it is clear we need some help in order to climb back up in the rankings. This is where Lantz Douglas, at UNC, comes in. As a current student studying nutrition at UW Madison, Lantz knows exactly what steps one needs to take in order to feel good and look good too!
Lantz recently opened UNC for many reasons, starting with his passion for nutrition. This is a man who truly wants to (and can) help people reach their health and weight goals. He also started UNC because growing up in Wisconsin Dells, Lantz knows firsthand that Midwestern-Americans commonly battle health problems that are directly related to poor nutritional practices. Before UNC opened, natives of the Dells area had to travel many miles outside of Wisconsin Dells to get the help and supplements he now provides at his location in the Cranberry Country Plaza, next to UNO Chicago Grill.
He has so far assisted several clients in losing 15-60 pounds by educating them on necessary nutrition changes, how to lose weight and build muscle, and how to lower their blood pressure and cholesterol. Lantz works with people to break their bad habits and start new ones in order to live a healthier lifestyle and feel better about themselves.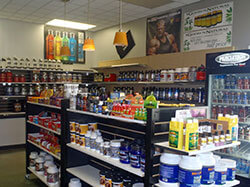 "Anyone can go online and purchase nutritional supplements but you cannot get the needed assistance or understanding on how these products work and which ones produce the best results from a computer" adds Lantz. "It makes me happy to help people look and feel the way they want to. I am always open to giving nutritional advice to anyone who asks through phone, e-mail or in person and if I cannot help someone I make sure to refer them to another professional who can."
UNC's biggest sellers are the protein powders and multi-vitamins because they are the most important supplements. According to Lantz, they are responsible for needed body reactions and are the "extra pop" people need to help the body and brain function better. Also, people are frequently low on protein and basic vitamins compared to what they should be taking in daily. These everyday powders and vitamins are the first steps towards a healthier lifestyle for most people.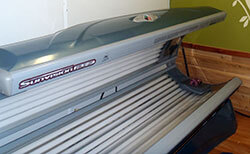 So you've lost weight, gained muscle tone and are well on the way to a healthier you, now what? UNC also provides the best tanning beds for miles around. Offering both lay-down and stand-up, these beds come all the way from Europe, where tanning indoors first started. UNC's tanning beds are multi-level, providing more options for the tanner. This helps all skin tones bring out their maximum tan capabilities. The best part about these high-grade beds is the fact that they are of the bronzing variety. This means they take less time to get you to your desired color and help you hold your tan for a longer period of time. In providing tanning, UNC gives customers that little something extra, making them feel even better about their new, healthier bodies.
Overall, the 3 main services UNC provides are nutrition, tanning and advice. All of these combine to help people find the right path towards their health and weight, and fitness goals. With the mass amount of repeat business Lantz receives, along with the verbal testimonials, he knows he is doing what he loves, helping people to feel better about themselves. UNC also sells items from the Tapout clothing line, largely due to the fact that the most in shape athletes are MMA (Mixed Martial Arts) fighters.
For more information about UNC, contact Lantz Douglas at 608-253-0440, e-mail him at [email protected] or visit www.UNCDELLS.com or checkout the store at 1010 Wisconsin Dells Parkway south. Lake Delton, WI. 53940. Next to UNO Chicago Grill.