Wisconsin Dells Trolley Tours are a unique way to explore different attractions, restaurants, and bars based on your interests! They offer tours year-round in their signature red & tan enclosed city trolleys!
Some tours offered are:
-Scenic Wisconsin Dells City & History Tour (with or without gourmet meal)
-The Full Winery Experience (with lunch)
-Wine Tour Express
-Bloody Mary/Mimosa Brunch Tour
-Dive Bar Extravaganza
-Margarita & Taco Loco Fiesta Tour
-A1 Beer & Burger Experience Tour
-Many seasonal tours including Winter Wonderland Tours, Haunted Trolley Tours, St. Patrick's Day Pub Crawl Tours, and many more!
On Sunday, November 19th, we attended the Bloody Mary/Mimosa Brunch Tour and it was fantastic! The tour picked us up at Bobbers Island Grill, and we had 3 stops ahead of us, each including our choice of a Bloody Mary or a Mimosa! Bobbers opens early on weekends to serve breakfast and for the Trolley Tours, so we grabbed a few drinks at Bobbers while waiting to be picked up (before the tour even started)!
The first stop was Spring Brook Sports Bar & Grill. It was a great first stop for the 6 of us from our group that were on the tour! We picked a table, chose which drink we wanted, and spent some time talking about the weekend and the tour ahead. After we were all finished with our drinks (and stories from the weekend), we headed back on the Trolley and headed to our next stop! On the Trolley, we brought a small cooler for our own drinks and snacks in between stops.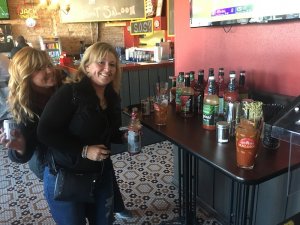 We then arrived at our second stop, which was Showboat Saloon. Although tour stops can change at any time, each place you stop is still a good time! At Showboat, we had the same routine, and they even had a "Build-Your-Own Bloody Mary Bar"! For some added fun, we paid a few dollars and gambled with the pull tabs from the machine, and actually won a few dollars back!
By this time, it was really nice to have our own Trolley driver so that we didn't have to worry about driving anywhere! We hopped aboard and came to our final stop, Trappers Turn. They had a magnificent brunch with a full salad bar, dozens of hot items, prime rib, desserts, and more! It was a great topping to the trip. Oh, and of course we were able to choose a Bloody Mary or Mimosa with our brunch as well! Afterwords, we headed back to Bobbers Island Grill to conclude the tour.
I would highly recommend Dells Trolley Tours for your group of friends, a bachelor/bachelorette party, or even as a family, since tours are for ALL AGES and discounted if you are under 21!
You can check out more information by clicking HERE!