For those of you who grew up taking vacations to Wisconsin Dells as kids, you undoubtedly remember visiting or have at least heard about the Tommy Bartlett Show. The water ski show is the longest running of its kind, celebrating its 62nd season of success on the shores of Lake Delton!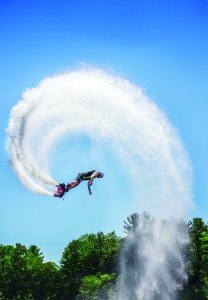 Tommy Bartlett began his career as a radio personality in his hometown of Milwaukee, Wisconsin, and staked his claim as a radio personality star in Chicago years later. His great voice and memorable presence meant he frequently was requested to travel across the US to host radio and TV shows. Throughout his travels, Tommy was inspired by the environments, people and attractions of the locations he visited. One particular water ski show at Cypress Gardens had him hooked! Little did anyone know that Tommy would be inducted into the Water Ski Hall of Fame at Cypress Gardens years later!
Tommy Bartlett initially planned a thrilling water ski road show that traveled worldwide. At one point in time there were 4 separate traveling shows for visitors to attend. Tommy partnered with Carl Kiekhaefer from Mercury Marine outboard motors. They both knew that you couldn't have a spectacular water ski show without a solid boat and strong motor! Tommy's phenomenal water ski shows were featured for several years at the New York World's Fair, and traveled as far away as Okinawa, Japan in 1975! After planting his roots in Wisconsin Dells, the Tommy Bartlett Show helped revolutionize the Wisconsin Dells area into a vacation destination/attraction mecca.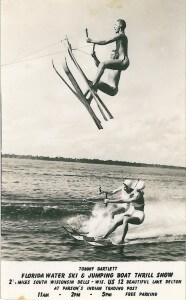 Many different performers have graced the stage at the Tommy Bartlett Show, but as far as big changes go, there haven't been many… this show has been a thriller for audiences since day one! Tommy wanted to create shows that you had to see in person to believe. One of the newer additions to the show does just that! The water-jet-propelled FlyBoard and amazing SkySki send performers flying above the water, twisting and turning 30-feet in the air. It's easy to understand why the FlyBoard and SkySki have quickly become crowd favorites. What originally started as a "bathing suit show" is now an extravagant, themed event. This year's theme is a tribute to the movies. Visitors can expect to see costumes and hear music based on classic movies including Dirty Dancing and James Bond! The transitions between acts are just seconds… imagine changing in and out of wet costumes in time for the next act?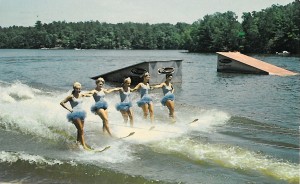 The Tommy Bartlett Show currently employs over 130 staff members in the summer months, with fewer than 40 of those being performers! The staff love being a part of the Tommy Bartlett family! The show is currently on its 3rd generation of performers. Judes Gilkerson started the family tradition as a performer in the Tommy Bartlett Show back in the 60s. Her son, Matt, started skiing in the show in the 80s. Matt still participates in the show, and now his 5-year-old daughter performs with him skiing doubles… the crowd loves seeing the young starlet! Ironically enough, Tommy's first and only time on water skis was on his 70th birthday!
Since opening, the Tommy Bartlett Show has seen over 15 million visitors on-site, with another 20+ million at fairs around the world! Families have been able to enjoy the show for generations and can expect high quality, wholesome, clean, family entertainment. The friendly staff at the Tommy Bartlett Show are sure to put a smile on your face!