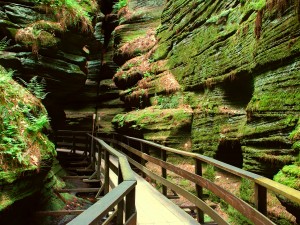 Though waterparks, theme parks, mini golf and go-karts tend to take center stage in Wisconsin Dells, many of the residents and visitors seek to soak in the wonder and beauty of the stunning rock formations. You can imagine that the first people to stumble across the Wisconsin Dells area weren't drawn here by the hair-raising attractions and fabulous dining opportunities, what stopped them in their tracks was the mind-boggling, maze-like, cliffy landscape.
The Dells of the Wisconsin River (also called Wisconsin Dells) is a 5-mile stretch of river with gorges and stunning Cambrian sandstone rock formations. Originally referred to as the 'Dalles' (narrows) by the French, the Wisconsin Dells is home to some of the most beautiful natural sandstone sculptures in the US! Some of the unique cliff faces tower over 100ft above the rushing waters of the Wisconsin River.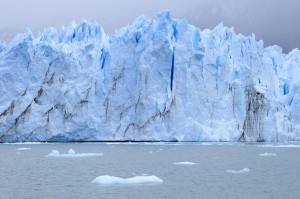 The Wisconsin Dells area was formed during the last ice age ~15,000 years ago. The area remained untouched by the gigantic, powerful Laurentide Ice Sheet (glacier) and became a part of the large Driftless Area that was spared by the large sheets of ice. The melting of Laurentide formed Glacial Lake Wisconsin (nearly the same size as Great Salt Lake in Utah) and had depths of 150 feet! The lake was held back by a dam of ice created by the remains of the glacier. Eventually, the ice dam burst and unleashed a catastrophic flood. The lake's depth dropped to only to 50 feet (from 150 feet), cutting deep, narrow gorges in its path. Thus the unusual rock formations we see in the sandstone today.
15,000 years ago may seem like a LONG time ago, but much of the rock dates back to the Cambrian era approximately 510-520 million years ago! If you can imagine it, during the Cambrian era  Wisconsin was at the bottom of a shallow sea!
These awe-inspiring landscapes are reason enough to come visit the Dells. Be sure to bring your camera, it's easy to get up-close and personal with the historical rock formations on a leisurely Dells Boat Tour, or a Duck tour! If you are as interested in history as we are, visit our recent Wisconsin Dells History blog at https://www.dells.com/blog/history-wisconsin-dells/.