Taking a trip down memory lane, you may recall the fun and quirky Wisconsin Dells attraction known as The Wonder Spot. This little gem was open from 1952-2006 and was proficient at dealing out smiles, dizziness and amazement!
Louis Dauterman of Fond du Lac, Wisconsin acquired the property and opened the family-friendly Wonder Spot attraction in 1952. The Wonder Spot was advertised as a place "where the laws of natural gravity seem to be repealed". Visitors walked down a ravine that led to a mysterious cabin hidden in the woods of Lake Delton, Wisconsin. Inside the cabin was a world of wonder! No one seemed to stand up straight, water flowed backwards, and chairs balanced on two legs! Guides at the attraction claimed that the bizarre happenings in the cabin were due to the strange rock formations of the area. In reality, the cabin was built perpendicular to a hillside and the strange happenings that visitors were experiencing were merely optical illusions!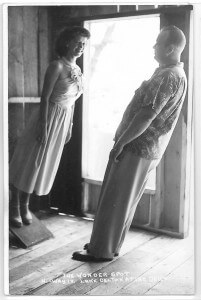 The images taken at The Wonder Spot are a real hoot! Visitors can be seen standing at odd angles and perched upon strangely balanced chairs. Nearly every photograph shows visitors grinning from ear-to-ear!
The attraction was purchased from Louis Dauterman by Bill Carney in 1988 and remained open until the site's closing in 2006. Bill enjoyed interacting with the visitors and loved to see that children of year's past would return as grown-ups with a new generation in tow! In the mid 90s, The Wonder Spot was seeing nearly 50,000 visitors per summer! As times started to change and the larger waterparks began to expand, visitors to The Wonder Spot started diminishing.
After more than a half century of wowing visitors, The Wonder Spot property was sold to the village of Lake Delton in 2007. At the time of its closing, The Wonder Spot was the oldest permitted attraction in the Wisconsin Dells area.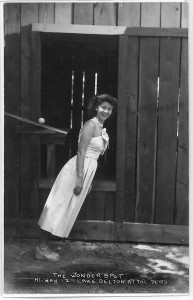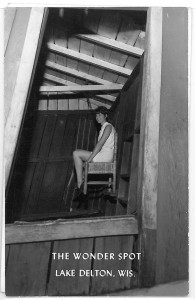 Reading through the reviews of The Wonder Spot for this blog were inspiring! This little attraction was a favorite of many who visited the Dells area from 1952-2006. Comments such as "Long live The Wonder Spot" and "It's official… part of my youth has disappeared" are posted on nearly every article written about the attraction's closing. Videos of the The Wonder Spot still exist on YouTube! If you are looking for a good chuckle, search YouTube for "Wonder Spot Wisconsin Dells" and enjoy.
A few of the props from The Wonder Spot (a chair and a can used for pouring water) were donated to the Wisconsin Historical Society upon closing their doors.