Storybook Gardens opened in 1956 and was home to lush, colorful gardens where storybook characters came to life! The 10-acre park, created by Melvin Flath, was open from mid-May thru mid-October yearly and was known for its relaxing environment and real-life fairy tale scenes. Designed with Kodak moments in mind, Storybook Gardens was one of the most well-known and longest running attractions in Wisconsin Dells and provided visitors with an experience of a lifetime!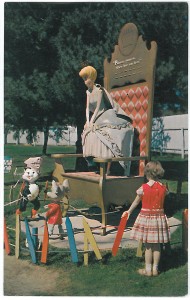 The peaceful calmness of Storybook Gardens was extremely welcome in the bustling atmosphere of a rapidly expanding Wisconsin Dells. It was known as a "land where years didn't count" and where "childhood dreams came true". Beautiful flower gardens, a well-trimmed lawn, four ponds (named after each of Flath's granddaughters), a miniature train and 25 exhibits called Storybook Gardens, home. Not to mention the variety of costumed actors and actresses that could be found roaming the magical grounds as fairy tale characters.
Archived images of the attraction show scenes of Cinderella touching kid's heads with the wave of her magic wand and Little Red Riding Hood wandering through the woods with a leashed German shepherd (posed as a wolf). Other captures show sightings of Jack and the Beanstalk, Humpty Dumpty perched atop a wall, Goldilocks and the Three Bears, the Good Shop Lollipop, and the Old Woman Who Lived In a Shoe! You'd be hard-pressed to find an image that doesn't contain a heap of smiles.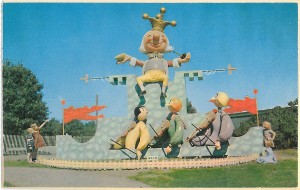 Melvin Flath was questioned for his rural, rustic, "in the middle of nowhere" placement of Storybook Gardens, but Flath was well ahead of his time! Storybook Gardens was located between the Dells Army Ducks and Noah's Ark, on the extremely popular Wisconsin Dells Parkway ("The Wisconsin Dells Strip")!
Mark Schoebel leased and operated Storybook Gardens for its final 7 seasons. He enjoyed running the fantasy land, but was well aware of the new generation of visitors and their changing interests. The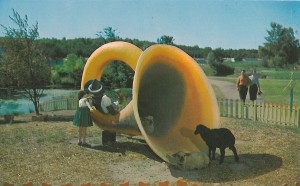 classic fairy-tale attraction closed its doors in 2010 and never reopened for the 2011 season. The once bright exhibits were now faded and plans were in the works to sell them at auction.
Though Storybook Gardens is now closed, repeat visitors to the Dells still speak of its charming atmosphere, memorable exhibits and characters. They mentioned it being the "perfect attraction for the whole family"!
* Fun Fact: Melvin Flath was known for far more than introducing the Dells to Storybook Gardens. He helped bring the first set of Ducks to the Dells area in 1946!