If you were a kid traveling to Wisconsin Dells in the late 50s-80s, you likely witnessed a shootout with the authorities and outlaw Black Bart at Fort Dells!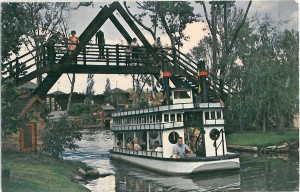 The historical, 11 acre amusement park was based on the booming success of Disneyland's "Frontierland". Foundations for the Fort Dells attraction were laid in the fall of 1958, and logs from nearby woods were cut, shaped, and laid in the bitter cold of the Wisconsin winter. Much of the remaining construction, decorating and finishing touches occurred after snow melt the following spring. The Fort Dells attraction opened doors to the public in June 1959 with a grand opening bash in July!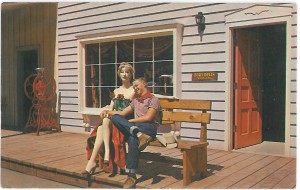 Fort Dells was split up into several main areas; Adventureland, Frontierland, Indian Isle and The Children's Farm. The attraction was home to a beautiful stagecoach, working steam railroad (featuring Engine No. 9), paddlewheel steamboat, suspension bridge, escape tunnel and more! Your trip to Fort Dells wasn't complete without watching the Black Bart Hold-Up! Similar to the Disneyland attraction, Fort Dells incorporated live shows and visitor interaction around every turn. Costumed characters roamed the park, visited with the guests and made for great photo opportunities. The combination of fun attractions, live shows and interaction helped turn Fort Dells into an extremely popular tourist destination in Wisconsin Dells.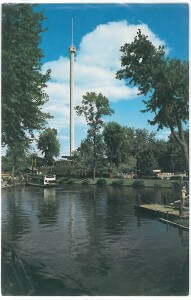 Fort Dells was also home to the the popular Totem Tower ride. The Totem Tower towered over all other Dells attractions, and at 335ft tall, had a fantastic panoramic view of what seemed like infinity and beyond! The rotating gondola attraction opened June 1st, 1966, and was filled with 60 eager riders. The 4th ride of its kind in the US and only 7th in the world, Totem Tower was a favorite of many visitors.
Fort Dells closed shortly after the 1985 season due to the increase in competition and pressure from the new-age waterparks. Upon closing its doors, Fort Dells morphed into Dells Crossroads featuring several circus acts. Dells Crossroads was fairly short-lived, and closed for good just 5 years after opening (1990). Many of the structures sat until 1997 when the remaining pieces were taken apart and bulldozed into rubble and dust.
The Fort Dells site is now home to the Fort Dells McDonalds (the huge log cabin McDonalds on the corner of Broadway and Wisconsin Dells Pkwy), a Walgreens and Starbucks. Though the attraction itself was back-hoed to the ground, steam Engine No. 9 still calls Wisconsin Dells home. You can still ride the train down memory lane (just like the good ole Fort Dells days) at Timbavati Wildlife Park!
The Fort Dells experience is still mentioned by visitors of the Dells (many of which are now grandparents looking for fun attractions for their grandkids).