Fine dining is an experience like no other. Whether you're out on a romantic date, catching up with friends, or just taking time to unwind after a long work day, going out to eat is always a treat. There's no place that makes this experience special quite like Copper Oak Steakhouse, located inside Ho-Chunk Gaming Wisconsin Dells. We were lucky enough to be able to try Copper Oak Steakhouse for ourselves and it was incredible.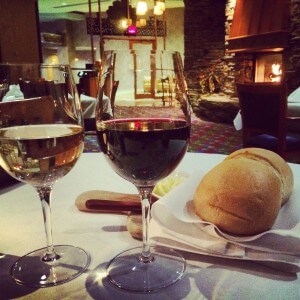 When we walked into the restaurant, our eyes were drawn to the warm, crackling fireplace separating the dining room from the bar. Booths surround the whole dining room as well as the magnificent copper oak tree, which is the focus point of the restaurant and where we were seated. The menu at Copper Oak includes signature appetizers, delicious soups, and succulent seafood selections, such as The 7oz cold water lobster tail. Juicy charbroiled steaks are made to order over a combination of Wisconsin hickory and Texas mesquite on Copper Oak's open-flame grill. The most popular steaks at Copper Oak include the savory filet, ribeye, and the porterhouse. Various steak compliments, such as caramelized onions, sautéed mushrooms, crumbled Maytag blue cheese, and peppercorns are available to enhance your meal. Experience a specialty cocktail along with your meal made directly at their full bar, or choose a glass from their extensive wine list.
We sampled the Baked Five Onion Soup and the Kobe Beef Burger Slider Trio. The soup was baked to perfection and the burger sliders were exquisite. We decided to accompany our meal with a nice glass of cabernet sauvignon. A fine assortment of homemade desserts are available to compliment any dinner.
For a night to remember, visit Copper Oak Steakhouse inside Ho-Chunk Gaming Wisconsin Dells. Copper Oak opens daily at 5pm.