One word: Brunch! There's no better feeling after a long weekend than waking up and heading to brunch with your friends! Whether recovering from a Bachelor or Bachelorette Party, or just grabbing some grub before heading back home, the whole experience of Brunch has made a comeback in the last few years and there are many reasons why. Besides the booze and perfect combination of sweet & savory flavors, Brunch only occurs on Saturday and/or Sunday, which enhances your weekend experience. Some places gear a whole menu toward brunch, while others just offer their breakfast or lunch menu and some good booze. Pop open that champagne, add a splash of OJ, and grab your eating utensils. This blog is going to make your mouth water.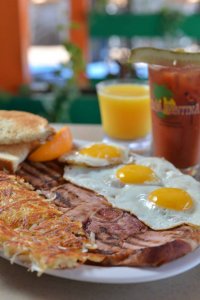 The Keg & Patio Bar offers their delicious breakfast menu not only during the week, but on Saturday's from 7:30am to noon! It features traditional hearty dishes such as steak & eggs, omelets, two different flavors of eggs Benedict's, and much more! You gotta get a side of Keg Style Hashbrown though. They come topped with grilled green peppers, onions, and cajun seasoning. The Keg also has a full bar, both inside and outside on their deck! With the atmosphere of a beach bar in the Florida Keys, The Keg is a great place to recover on a Saturday Morning from a long Friday night! 
Opening every day at 11am, High Rock Cafe is a unique experience in itself. Although they do not have a specific brunch menu, their lunch menu has wraps, salads, sandwiches, fish tacos, and pasta to fill you up. Oh, and they also have a full bar which features crafty cocktails. My favorite dish is a Cusabi Wrap (shown below) which is filled with shrimp, goat cheese, cucumber, tomato, cabbage, and named after the cucumber wasabi dressing that's used inside.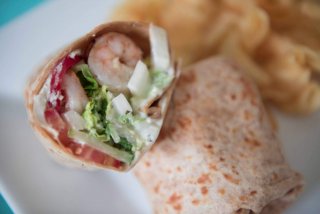 Known for their Monster Bloody Mary's served in a 50oz pitcher with two beer chasers, Spring Brook Sports Bar & Grill has all the special menu items to make your hangover headache disappear. Known for their many flavors of both traditional and boneless wings, you can satisfy yourself with juicy burgers, cheesy pizza, sandwiches, and more. On weekends, the bar are opens at 10am and the restaurant opens at 11am, making it the perfect place to head between breakfast & lunch and watch your favorite team play ball!
With the industrial feel that most millennials in bigger cities enjoy, B-Lux Grill & Bar really has a unique treat that you'll love- Hard Shakes! These shakes are infused with alcohol and can be a meal in itself! My favorite is the Kentucky Brainfreeze with Maker's Mark, caramel, & peanut butter! B-Lux also has sliders, burgers, large chicken wings, sandwiches, salads, and great appetizers such as their Mini Shrimp Corndogs and Three Napkin Poutine! This family-owned restaurant opens at 11am every day, and yes, there's a beautiful bar inside.
Serving Brunch on weekends as early as 8am, Dells Distillery can satisfy your weekend appetite with skillets, breakfast burritos, eggs, biscuits & gravy, and drinks! With many beers on tap and their own line of spirits, Dells Distillery is a great place to bring your buddies for a "morning-after meal."
Between 8am-11am, stop into River's Edge Pub & Grub on Country A for their delicious breakfast menu! Tackle cheesy omelets, hot breakfast croissant sandwiches, French Toast, Pancakes, and more! Don't forget the mimosas to go with your brunch meal! River's Edge is a rustic, Northwoods restaurant and features a 4,000 gallon fish aquarium and even a large tree growing right through the bar!
Being a brunch connoisseur myself, I love brunching earlier in the day so that my meal has a longer time to digest, especially if you're partaking in a Sunday Funday! Get out and start brunching!