Looking for something NEW to do in the Wisconsin Dells? Coming the week of January 21st, the Wilderness Resort will have new attractions and activities to excite and engage the whole family. Take a break from the winter gloom and check out what's new at the Wilderness!
---
Three NEW Climbing Walls!
According to Chris Ebben, the resort's attractions director, "Each of the walls will vary in difficulty and appearance, and all are certain to provide a memorable experience for participants by offering a wide variety of challenges."
The Circuit Breaker
Sporting a technological feel, the Circuit Breaker wall features lights throughout connection lines and handholds. Climbers may choose to tackle the wall using either the round flashing holds, or solid square holds to reach the top.
The Speed Climb
Have a need for speed and a competitive nature? The Speed Climb encourages climbers to race against each other and reach the top as fast as possible. This wall features LED lights and a running timer which creates a fast-paced, high-energy experience for climbers.
The Time Traveler
In another fast-paced climb, the Time Traveler wall challenges participants to reach the top before the countdown clock runs out. Climbers are also tasked with gaining points on their way up by 'capturing' the optical sensors on the interchange symbols!
All of the walls are 24 feet tall, and are $5 for one wall climb, or just $12 for all three climbs. Please note that in order to accommodate setting up the new climbing walls, some hours will be adjusted in this portion of the hotel from January 22-25. This information is listed on the resort's blog here.
---
NEW Family Yoga and Dance Parties!
If competitive wall climbing isn't really your thing, the Wilderness' Wild Kids Club is also now offering Family Yoga and Family Dance Parties in the Wild WaterDome.

Family Yoga
From 8:00-8:30am on Saturday mornings, Family Yoga sessions include a variety of stretches and poses to help increase flexibility, muscle strength and tone. The Wilderness Resort supplies participants with yoga mats – so all you need to do is show up in your comfiest workout clothes!
Family Dance Parties
On Friday and Saturday evenings from 8:00-8:30 pm in the Wild West lobby, Family Dance Parties will feature popular music for littles to get their groove on to- and to get all their wiggles out before heading off to bed!
---
NEW Candy Cabin!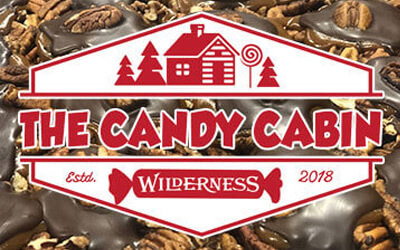 The Candy Cabin
Those with a sweet tooth will love this new attraction at the resort! Located in the Wild West lobby, the Candy Cabin features all sorts of heavenly hand-dipped delights including homemade turtles and sea salt caramels. There is also an area where guests can watch candy makers in action whipping up amazing treats like Frogs, Bears and Moose that are made just for kids!
Learn more about these NEW attractions and everything else the Wilderness Resort has to offer: