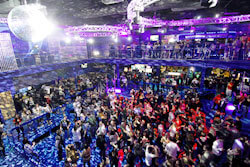 Family fun during the day and endless entertainment at night, Marley's truly has it all! This is proven through their ever-increasing popularity, which eventually forced them to move to a new, larger location in December 2010. As the only Caribbean restaurant in Wisconsin Dells, it is a delicious source of food for both lunch and dinner. Things get spicy as the sun goes down and the Dells' hottest nightclub, The Reef opens up. So whether you are here on a family vacation or ready to party, Marley's is the place to be both day and night.
It all began with the restaurant, which the owners were inspired to open because of the need for a differently themed food establishment in the Dells. So Marley's was born with its mouth-watering menu featuring over 70 items. From Jamaican inspired food such as coconut shrimp and jerk chicken to less daring items like crisp salads and perfected pastas, this restaurant will please even the pickiest eaters.
Eat outside and get some sun as you enjoy your food on Marley's expansive patio. Here you will be transported to Caribbean beaches while you wait for your food. Parents can relax on the sand pit next to a roaring fire while the kids play on a nearby mini-beach filled with toys and kiddie rides. Musical entertainment completes the scene as each day brings a different outdoor performer. Come on Thursday night to enjoy family karaoke!
You could also beat the heat and grab a meal indoors where a Caribbean themed village awaits you. Check out their gift shop while waiting for your meal where you can truly get into the Marley's theme by purchasing tie-dye t-shirts for the whole family. Love the theme but not sure Caribbean food is your thing? Well, Marley's now has a pizza menu filled with fresh, melt in your mouth, pizza options.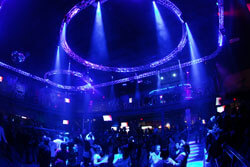 Whether freshly 21 or more experienced, Marley's is the place to be after daylight hours! Featuring four bars, an expansive dance floor and a captivating underwater theme, The Reef is sure to keep you partying all night long. Their main bar is the pirate bar, which gives one the feel of boarding a life-sized ship to join its scurvy crew. Also on the main floor is the submarine bar proving that the fun doesn't stop after being submerged into The Reef's blue depths. Take the party outside and get some fresh air while sitting at the bamboo bar. VIPs get to enjoy the enticing bubble bar, located upstairs, which lights up as you enjoy a drink and a view of the entire dance floor.
Speaking of VIP, Marley's brings a taste of the big city to the Dells with their VIP areas and bottle service displayed on light up menus. Upstairs hosts the Starfish Lounge and the Shark Cages where small VIP groups can enjoy privacy and luxury. However, if you prefer to be closer to the action, reserve the Sub Lounge, located downstairs and perfect for large parties.
All of Marley's guests get to enjoy the nightly events including incredible drink deals, the highlight of which is their 2-4-1. Come earlier on certain nights to enjoy games such a beanbags, beer pong, basketball shootouts and trivia in order to win fabulous prizes like a $25 bar tab. Purchase beer tubs on Tuesday nights in order to be eligible for a Bud Cruise giveaway which will be awarded during a Bud party at the end of July. The Bud girls will also be in attendance. Fridays will soon include a dunk tank, which will give participants the chance to dunk a Marley's girl after buying a Don Q drink.
Celebrating a birthday? Getting married? Marley's is the best place for your birthday or bachelorette/bachelor party. Birthday celebrators get to pour shots on top of the bar and Saturdays bring out a competitive edge as bachelors and bachelorettes have a dance off! Marley's is also the best place to catch the big game as they feature 40+ TV's, including a 12×12 foot projection screen.
So come enjoy a fun meal with the family while the kids have plenty of room to play and dance as parents relax or join in the fun. As the sun goes down, Marley's heats up when the party gets started for those 21+. With amazing food and the best of Wisconsin Dells' nightlife and a new location, Marley's has something for everyone and is a definite hot spot for those visiting the Dells.
For more information on Marley's or The Reef, visit Marley's Club or www.dells.com.