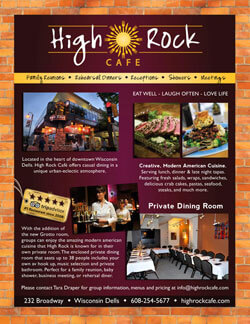 Once a hidden gem, High Rock Café is now a shining jewel in downtown Wisconsin Dells. The restaurant, once a local secret, has now had to expand due to its customer increase over the last couple years. Between word of mouth and achieving the number one spot on tripadvisor, the secret that was High Rock Café has been released and visitors have been raving ever since. This unique and ever-changing restaurant is a must visit while in the Dells.
One of the many things that make High Rock Café such an immense success is its exciting menu which is always being updated to accommodate the talented chefs' constant creative sparks. With culinary talents acquired from various locations around the U.S., these chefs add their own flair to the most appetizing dishes. An outlet for their many ideas is the season's freshest menu which includes a mixture of choices from appetizers to desserts all featuring a highlighted fruit or vegetable. The current star of the menu is asparagus and some type of berry (strawberry, raspberry or blueberry) will be the next inspiration for their mouth-watering creations.
You can still tantalize your taste buds after dinner hours with High Rock Café's recently released tapas menu served from 8:30 p.m. until midnight or later. While this place definitely knows their wines well, their newly acquired liquor license will add a little extra kick to the night time fun. However, staying true to their creative nature, High Rock Café plans on serving novel cocktails that you will not soon forget…unless you have too many that is.
Speaking of new and exciting things, High Rock Café's expansion has been open since 2010 and they have changed their overall look to match the addition. The restaurant now features seating both upstairs and down. Upstairs still holds the most beautiful view of downtown Wisconsin Dells, ideal for people watching while enjoying a tasty meal. The seating below offers a bit more of a spacious feel aside large windows, near the gorgeous bar area. The downstairs space only adds to the overall cozy feel that is part of High Rock Café's charm. So stop in to enjoy food with a view or have a drink at the bar which gives off an intimate vibe within a fun, friendly atmosphere.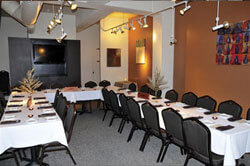 For an even more secluded meal, High Rock Café now has a private dining room called the Grotto. Boasting seating for up to 38 people, the Grotto is the perfect place for any event including birthdays, business meetings, rehearsal dinners, baby showers, small parties and more. This inviting area also features its own entrance, a private bathroom and an AV hook up for a preferred music selection.  Classy interior design and chic lighting make the Grotto an ideal location that is sure to make every event one to remember.
As they continue to update and expand, High Rock Café is currently working on marketing their catering talents and hoping to soon be a favored restaurant choice for all events. So for your next soirée, skip the stress of cooking and hire them for world-class catering services. Whether searching for hot menu items or boat worthy food, High Rock Café is sure to have a wide range of unforgettable options to keep your guests full and raving all night long.
From light lunch choices to late night tapas, High Rock Café has something for everyone. With their inviting atmosphere and food that is to die for, this restaurant is a must not miss stop while strolling along downtown Dells. Be sure to come in and check out what's new on seasons freshest or try one of the infamous desserts, your taste buds will thank you. In the meantime be sure to "eat well, laugh often and love life."
For more information on High Rock Café contact them by phone at (608) 254-5677 or email at [email protected] You can also visit www.highrockcafe.com or www.dells.com.