Experience Summer
Besides the great variety of waterparks in Wisconsin Dells, there are many attractions worth visiting this summer. We highlighted a few to help you start planning. From toddlers to teen, adults and those young at heart will have an exciting experience when checking out these Wisconsin Dells attractions.
Be Entertained:
Tommy Bartlett Show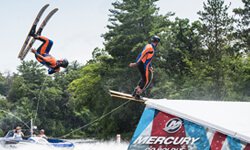 has entertained guests during their daily ski, sky & stage shows for 67 years. Each 90-minute show features a mixture of extreme water skiing, boat tricks, daredevil stunts, comedy, and jaw-dropping tricks! This show for the whole family has been dubbed "The Greatest Show on H2O." If you're looking for a unique, family-friendly attraction in Wisconsin Dells, be sure to visit the Rick Wilcox Magic Theater. This show, filled with incredible illusions and hilarious comedy, has been entertaining audiences in Wisconsin Dells since 1999!
Take a Walk on the Wild Side:
With over 400 animals from 70 different species, Timbavati Wildlife Park is an experience for the whole family! Feed the giraffes, ride the safari train, or even hand feed the parakeets at the parakeet encounter. Learn about the different species of animals at Timbavati during the Wildlife Presentations or stroll leisurely among the different animal exhibits.  For more animal adventures, Wisconsin Deer Park has been a favorite attraction for families since 1952! Your family will enjoy feeding and petting the over 100 tame deer! Wisconsin Deer Park also features other wildlife, such as goats, fawns, birds, lamas, pigs, emu, lemurs, elk, bison, and even horses!
Duck, Duck, Dells: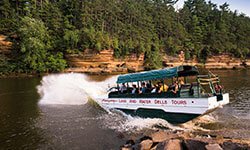 When driving around Wisconsin Dells in the summertime, you may notice a few amphibious boats sharing the road with you. These are known as DUCKS! There are 2 different DUCK tour companies in the Dells, each offering their own land and water tour of the area and information on Wisconsin Dells. Be sure to check out Dells Army Ducks and the Original Wisconsin Ducks to get your tour plans set today! For more adventures on the water, no matter what your age is, a Boat Tour is always a great idea! The beautiful sandstone bluffs around the Wisconsin River are originally what attracted visitors to the Dells area. Learn about the natural history of the Dells on a guided Upper Dells and Lower Dells boat tour.
Waterpark Resorts:
For some more outdoor water fun, Neptune's Outdoor Waterpark at Mt. Olympus Resort offers dozens of different water activities for all ages. Enjoy floating on the endless river, exploring the Lost City of Atlantis, the Great Pool of Delphi, and the 9ft waves at Poseidon's Rage Wave Pool! There are tube slides, body slides, and plenty of food options to enjoy while soaking up the sun. Wisconsin Dells is also home to Noah's Ark Waterpark, known as "America's Largest Waterpark."  Noah's Ark offers great fun for the whole family with 70 acres of outdoor rides, slides, attractions, great food, and fun! From 2 large wave pools to themed slides, raft rides, lazy rivers, and kiddie play areas!
Adrenaline Rush: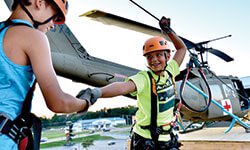 For an adrenaline junkie. enjoy over 6,000 feet of fun on Bigfoot Zipline Tours! This adventure takes approximately 2 1/2 hours and features 7 separate zip lines in the majestic oaks and pines of Wisconsin Dells. You must be 43 inches tall and in reasonably good health to experience. For more thrills check out Bigfoot Ropes Course, an aerial adventure course offers a challenge for all ages that are 48 inches and taller. The course has eighty different elements to discover, climb through, and explore. Obstacles include a helicopter crawl, several bridges, and much more!
Mini-Golf & Go-Karts:
Pirate's Cove Adventure Golf is home to 5 different courses and 91 unique mini-golf holes, all among cascading waterfalls, mountainous terrain, sandstone rock formations, and other landscape features. Some holes even require you to putt your ball across a bridge or stream! Play during the day or at night, and when you're done, challenge your family and friends to a race at one of the many Dells go-kart tracks! Winding tracks, hairpin turns, tunnels, bridges, and speedy go-karts galore make the perfect afternoon or evening adventure
Indoor Excitement:
For something to do on a rainy day or a hot afternoon, step inside and cool off by visiting the oddities within Ripley's Believe it or Not! or set out on a special adventure at the one of a kind, Wizard Quest, which combines a computer game and an interactive fantasy themed labyrinth located just down the block. Find more indoor fun at Booby Trap Escape Rooms, they offer a fun and interactive critical thinking adventure for you and your friends or family!
A Place to Lay Your Head:
At the end of a long fun-filled day, a cozy and comfortable place to stay is just what you need. Wisconsin Dells has many options to choose from. Most hotels and motels in Wisconsin Dells are budget-friendly, and some even include free waterpark passes to an area waterpark! The Waterpark Resorts are perfect for if you're looking for a package deal! If you're traveling with friends, a vacation home or cabin may be a great plan. Camping is also always a great activity for the whole family and a fun way to get back to nature.
Fill Your Bellies: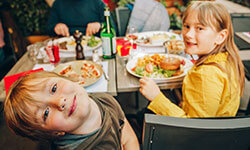 When you're ready to fill those little bellies, restaurants in Wisconsin Dells are plentiful! Whether you're looking for a place to take the toddlers or dinner for two, you'll find many restaurants to accommodate all group sizes in the Dells. The variety of restaurants is also what makes the Dells unique. You'll find almost every type of cuisine and budget here! From burgers to seafood, Chinese to Mexican, we've got it all! Click Here to find the perfect restaurant for you and your family.
Don't let Summer pass you by, book your Wisconsin Dells trip today! For more information on additional attractions, places to stay, things to do, and where to eat, Visit Dells.com.