Have you seen all there is to do this fall and winter in Wisconsin Dells? Celebrations for Thanksgiving, Christmas, New Year's and then top it all off with the State Snow Sculpting Competition – the Flake Out Festival.
Wisconsin Dells resorts and restaurants are preparing immaculate feasts for your family this Holiday Season. Included are all the classic fixings: Turkey, Ham, Sweet Potatoes, Apple and Pumpkin pie as well as some new flavors to tempt your palate like Baked halibut and Prosciutto chicken.
Along with dining, enjoy resort activities or Holiday shopping in downtown Wisconsin Dells or at the Tanger Outlet Mall. Get that unique gift for Mom and Dad or treat the whole family with an all inclusive vacation.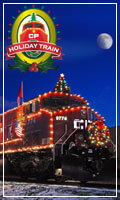 Don't miss the Holiday Train! Stopping in downtown Wisconsin Dells at the Amtrak station on La Crosse St. There will be refreshments, live entertainment, photos with Santa Claus, a huge raffle featuring a grand prize. The train arrives in December!
The snow will be flying soon which brings awesome winter activities and attractions like snow tubing, skiing, snowmobiling and even a winter zip line tour. Imaging flying high in the trees gazing on fresh snowfall or a buck grazing on foliage poking through the snow!
Grab your skis or board and head to Christmas Mountain or Cascade Mountain, just minutes from the Dells area. Get your family and friends together for a scenic snowmobile trip! Several lodging choices are near the trails including a bed and breakfast.
So as you can see – there is plenty to plan your winter escape around in Wisconsin Dells! Be sure to purchase a copy of the Original Wisconsin Dells Coupon Book before you reserve your stay – there are hundreds of coupons to help you save on your stay, shopping, dining and other activities.