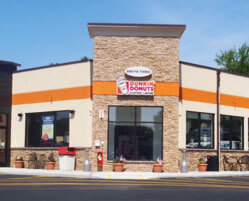 The nationally known and loved establishment of Dunkin' Donuts has recently opened up two new restaurants in the Wisconsin Dells/Lake Delton area. So far, these two locations have found immense success; having both local and visiting customers flooding through the doors to indulge in the top-rate donuts and coffees that make Dunkin'
Donuts as successful as it is.
Each morning 35 various types of mouth-watering donuts are freshly baked while their delectable coffee is brewed. Their coffee has quickly become one of the most preferred brands. Since changing their image eight years ago, Dunkin' Donuts has created quite a buzz over their revamped coffee and newly added menu options such as their breakfast sandwiches and wraps.
"The secret to the crisp taste and flavor found in our coffee is the 9 step filtration process we put water through before adding it to our coffee blend" says regional manager Jeremy Alsaker. "It also helps that we have such great employees who are the perfect professionals for the job."
Dunkin' Donuts keeps their menu exciting by creating a new menu option every four weeks. What's coming up you may ask? To beat the summer heat, Dunkin' Donuts has added the refreshing flavor of Mountain Dew, strawberry lemonade and lemonade iced tea to their delicious Coolatta options.
As for the Wisconsin Dells locations, sales have so far been above projections and management has been immensely pleased with the support they have received from the community.
"We are very thankful for all the local customer loyalty. We get people coming in daily not only from the Dells, but Baraboo, Mauston and Reedsburg as well" states Alsaker.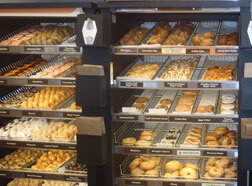 There is good news for Wisconsin natives who are craving a Dunkin' Donuts in their neighborhood. Within the next four years, 12 more locations across Wisconsin will be opening in areas such as Madison and Stevens Point.
The closest upcoming event for Dunkin' Donuts is taking place at the newest Wisconsin Dells location. "Rooftop Stakeout" is the theme for their grand opening on Saturday June 4, 2011 from 7 a.m. until noon. For the big bash, Dunkin' Donuts has paired with Wisconsin Special Olympics in order to raise funds and awareness for the organization and its athletes. Dunkin' Donuts alone is donating $1,000 and anyone who makes a donation during the event will receive a free medium hot or iced coffee! For an added incentive to go and participate there will be several local radio stations, a DJ and Special Olympics athletes all in attendance. A 15 foot coffee mug and donut will rise up in the parking lot for added fun and amusement. Let's not forget, a donut themed event would not be complete without police officers who you will find shouting through megaphones from the roof top of Dunkin' Donuts!
Other upcoming events for the Wisconsin Dells locations include participation in Wo Zha Wa Days on September 16-18, 2011 and Flake Out Fest in January 2012.
The Wisconsin Dells location can be found at 911 US Hwy 12 and 16 and is open from 5:30 a.m. until 10:00 p.m. The Lake Delton location is at 1171 S Wisconsin Dells Pkwy and is open 24 hours.
Visit Dells.com for more!