Valentine's Day is a week away and if you're still looking for that perfect gift to show how much you care, read on! Whether you're 10 or 100, even the simplest gesture can warm the smallest of hearts. Below are some great gift ideas to show your sweetheart how much you love them this Valentine's Day!
Heart out of Red Construction Paper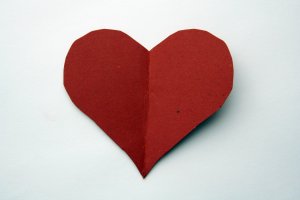 Whether making decorations to accompany a bigger gift or creating a card shaped like a heart, it's pretty simple to make a heart from construction paper.
First, start with a square of construction paper and fold it in half.
Next, draw a half of a heart coming out of the seam you folded (See image on right).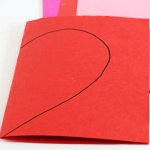 Lastly, cut it out to make a perfect heart!
Goody Goody Gum Drop
Located at 401 Broadway in Downtown Wisconsin Dells, Goody Goody Gum Drop is the Dells Largest Candy Store! Based on the thousands of different kinds of candy and chocolate at Goody Goody Gum Drop, you're bound to find something to help with your sweetie's sweet tooth! From delectable fudge, to caramels, specialty chocolates and more, Valentine's Day goodies are just one stop away!
Original Wisconsin Dells Fudge
When you see the big light-up red sign off Broadway with the letters F-U-D-G-E down the sign, you'll know that's the Original Wisconsin Dells Fudge shop! Known as "The Dells First Fudge Shop", Original Wisconsin Dells Fudge has been serving creamy fudge, caramels, taffy, and more for decades. Walk past their storefront and you're sure to smell the fragrance of freshly made chocolates! Pickup a box of chocolates to show someone special you love them!
Swiss Maid Fudge
Since 1962, Swiss Maid Fudge has been creating elegant chocolates and fudge for both visitors and locals to Wisconsin Dells. All of their confections are made the old European way using copper kettle and cooked over gas fired cast oven stoves. Just in time for Valentine's Day, enjoy chocolate dipped strawberries! They now ship fresh, made to order confections nationwide!
We won't judge if you want to buy some chocolates and fudge for yourself, but if you're looking for the perfect gift, you're sure to find it in Wisconsin Dells!