Alright, so you decided to take a last-minute trip this fall with the kiddos to Wisconsin Dells. You want to pack in as much fun as you can, but you only have a weekend with us. I'm sure you've already researched places online to visit and now you want to know suggestions from locals. What are the hot spot attractions for this time of year and where are the best places in town to get some food? We've broken it down for you with our top 3 recommendations of places to visit, eat and stay if you only have a short amount of time in the Dells. Feel free to comment below with your own additions and suggestions!
Where to Visit?
1) Knuckleheads Trampoline Park * Rides * Bowling
Besides having the only Trampoline Park in Wisconsin Dells, Knuckleheads features dozens of rides, arcade games, and even 10 state of the art cosmic bowling lanes. This place is perfect for during those brisk Autumn days. Don't worry, when you get thirsty, there's a full bar & lounge with great appetizers, snacks, burgers, pizza, and more!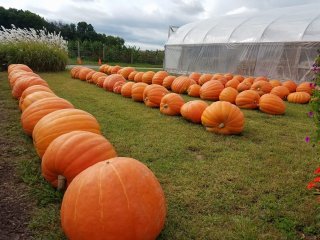 2) Country Bumpkin Farm Market, Play Village, and Petting Farm
Perfect for the Fall Season, Country Bumpkin has a 2 1/2 acre corn maze with trivia questions to help you through. The kiddos will love riding the Country Bumpkin Express Farm Train Ride and we know everyone will enjoy the Pumpkin smashin' catapult. Pick your own pumpkins, visit the bakery, and grab a cone of Chocolate Shoppe Ice Cream; there's much to do for everyone at Country Bumpkin! 
Right now, the "Season of the Witch" Ghost Boat Tour takes place on weekends in September & October. The whole experience is like a unique and scary haunted house. First, you board the boat and it takes you in the dark to an unknown location. Then you walk through the sandstone bluffs while encountering different leery characters, scenes, and noises. This ride isn't for the faint of heart!   
Where to Eat?
1) Pizza Pub
If you are visiting with kids or friends, Pizza Pub is the perfect place to fill your tummies. Join them for their lunch buffet, which includes pizza, pasta, and a 50-item soup & salad bar! Yummm!
2) MACS Macaroni & Cheese Shop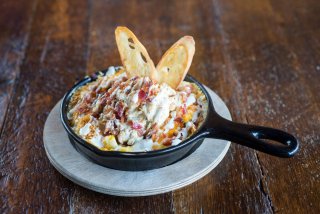 Feel like a kid again with some homestyle Macaroni & Cheese at MACS. These aren't just ordinary Mac n' Cheese dishes. You can get the Taco Mac, Cheeseburger Mac, Chipotle Mac, Loaded Baked Potato Mac, the Original Mac or any other one of their 12 great flavor creations! MACS also offers Melts, Salads, a Kids Menu, & Desserts!
3) Buffalo Phil's Pizza & Grille
Your kiddos will love the train-delivered food at Buffalo Phil's. What does this mean? It means that after you order at select tables, a flat top train cruises by each table, stopping at yours for you to take the plates off of the train and enjoy! Buffalo Phil's Grille is known for their western flavor, rotisserie chicken, and cheesy pizza! 
Where to Stay?
1) Best Western Ambassador Inn & Suites
As a newly remodeled hotel, the Best Western in Wisconsin Dells is clean, cozy, and offers great amenities to their guests. Start the day out right with a free continental breakfast, or head across the parking lot to the on-property Denny's. Relax at the Indoor pool, whirlpool & sauna, or visit the on-site fitness center. As an added bonus, Chula Vista Waterpark Passes are available to guests year-round!
Perfect for families, the Wilderness Resort is home to many different lodgings options, including hotel rooms, suites, condos, cabins, and villas. Included for each registered guest is admission to the Wilderness Resort's four different Indoor Waterparks, including Margarita's Swim-Up Bar in the Wild WaterDome.  With Go-Karts, Laser Tag, a Ropes Course, 3D Mini Golf, Bumper Boats, Cyverspace VR Arena, Room Escapes, Timberland Play Park, three different Arcades, and many great dining options around the Resort, you'll never have to leave!
3) River Inn
With rooms overlooking the Wisconsin River, River Inn features luxury amenities and boutique rooms unlike any other place in Wisconsin Dells. Enjoy 3 indoor pools & 3 indoor whirlpools, 2 saunas, and free admission to Mt. Olympus Water & Theme Park.  While there's still some time this Fall, take advantage of the boat dock on the Wisconsin River.
Looking for more suggestions from locals? CLICK HERE!