Imagine soaring through the air while trees rush past you and water glitters below your feet, all while smiling, laughing, and making new friends. That is what you'll experience on a Bigfoot Zipline tour! From start to finish, this tour will have you grinning from ear-to-ear as you harness up and set off on a new, unforgettable adventure.
Scared of heights? Never fear! The very experienced zipline guides will not only show you all the ropes but also keep you relaxed by providing an upbeat, laid-back atmosphere that puts all your nerves at ease. In fact, your excursion begins with harnesses and safety equipment that is triple checked before heading out to the zipline course. Before you take on the first big zipline, your guides will show you exactly how it's done at Base Training Camp and allow you try out a small practice zipline. This way, you'll feel completely comfortable before taking off on this awesome course.
If you're still nervous, just know the first zipline is called "Nutten To It" for a reason. One of the shortest ziplines and definitely the slowest, this is where all your nerves will fly away as you experience the incredible sensation of ziplining for the first time. Trust us, you'll be beaming way before you slowly glide into the landing!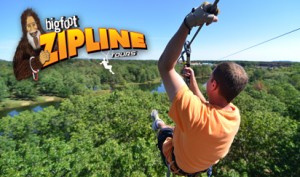 Zipline two, "Geronimo" is where things get exciting and not only because it's over the water. If you've ziplined before or just felt at ease right away, your guides can show you some tricks, including how to hang upside-down making this zipline unforgettable! This is what truly sets Bigfoot Zipline apart from the rest, as this is one of the few companies that are fully equipped to allow these kinds of tricks for a one-of-a-kind experience.
Hope you have your game face on by now, as zipline 3 "Wahoo", is where you get your picture taken. Afterwards, you get a little break for some water and a chance to get to know your guides and group a little better. Only two more ziplines left to master or try any tricks before it's time for the ultimate test, the final zipline is a whopping 1,397 feet long and by far the fastest! That's not even the best part, zipline six "Me Tarzan, You Jane", is also a double zipline meant for racing. Size up your competition and choose your racing partner wisely.
Our favorite feature of Bigfoot Zipline Tours is that you can capture your whole experience on video so you can relive this thrilling expedition again and again! At least one person in your group will have a helmet with a go-pro attached to film all 6 ziplines. Hotshots will also be there taking photos along the way so you can go home with mementos to show all your friends.
Once back at Bigfoot Headquarters, relax after the tour on Bigfoot's gorgeous outdoor patio where you can dine on endless and delicious snacks, foods, treats, drinks, and more for purchase.  Grab a drink or something to eat and soak up some sunshine as you chat, text, tweet, Facebook, and more about the unbelievable adventure you just had!
Challenge yourself and experience something new at Bigfoot Zipline on your next trip to Wisconsin Dells! For more information on Bigfoot Zipline head to: www.bigfootzip.com.