Fun for the whole family, Bidder No.4 is the new 'Minute-To-Win-It' type attraction in the Wisconsin Dells. Nestled on the Dells downtown strip, their shop is inviting, colorful, and rich with history. After stepping foot in the front door, you'll see why they are considered one of the most playful antique stores in the world!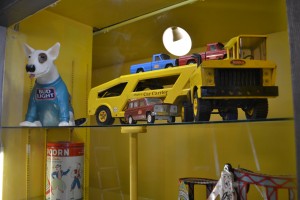 Upon entering Bidder No.4, you'll pay a mere $2.50 (+tax) for admission. A small price to pay for the fun and laughter that is headed your way. Your admission gets you into the facility and provides you with your very first challenge token! Tokens are used to enter one of Bidder No.4's randomly selected challenges. Completing the challenge successfully will win you 5 points that can be applied to your total winnings and redeemed for one-of-a-kind prizes.
You won't be headed home with a stuffed animal or colorful bouncy ball because these prizes aren't your everyday arcade prizes, you'll be amazed at what is at your fingertips. Take a trip back down memory lane as you'll have access to toys that you played with as a kid. All prize selections are toy-themed antiques that start at just 10 points a piece! You'll feel as if you've time-warped to the 'good-ol'-days'. Kids of all ages will find themselves swooning over the brightly-lit prize display cases! Comic books, figurines, buttons, bikes, trinkets, you name it, they have it available at Bidder No.4!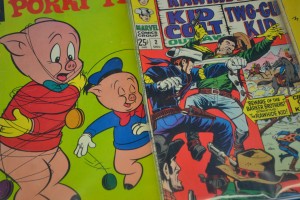 Not interested in playing one of the timed challenges? No sweat! Bidder No.4 has a 'pay-for-it' option along with their 'play-for-it' option. Your admission will have you gawking and reminiscing at the store's antiques, and your challenge token can be redeemed for $2.00 off anything in the store! If you can't find anything in the store that tickles your fancy… your token is also good for $2.00 off at Ripley's Believe it or Not and Wizard Quest!
Their 60-second challenges are laugh-out-loud funny. The 'Nervous Nelly' and 'Junk in the Trunk' games are just two of hundreds of games that will be in constant rotation. With the constantly changing games, this is an attraction you'll want to try out every time you visit the Dells. Bidder No.4 has player cards available to keep track of winning points throughout your visits so you can have access to bigger and better prizes! The cards have no expiration date, so winning a big prize is easier than you think!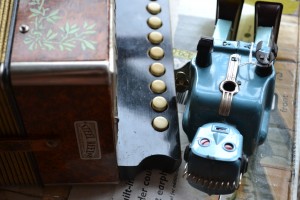 So come on in for a big dose of nostalgia. Bidder No.4 is a delightful fusion of fun games, antique collectables, and movement! Their games will keep you on your toes and their prizes are truly something to marvel and show off!
Bidder No.4 is located next to Ripley's Believe It Or Not on Broadway in the downtown Wisconsin Dells. For more information, please call (608) 254-2184.