Wisconsin Dells is known for its wide variety of great dining choices. What would a restaurant be without a mouth-watering burger or two to choose from? If you are craving that all-American classic, we have the list of some of the best burgers in Wisconsin Dells.
---
The original Monkburger has been a Dells tradition since 1947, the same basic recipe for the classic burgers as well as the gourmet burgers. Always fresh, never frozen with a secret mix of spices. The famous original Monkburger topped with fried onions and cheese bursts with flavor keeps visitors and locals coming back for more year after year.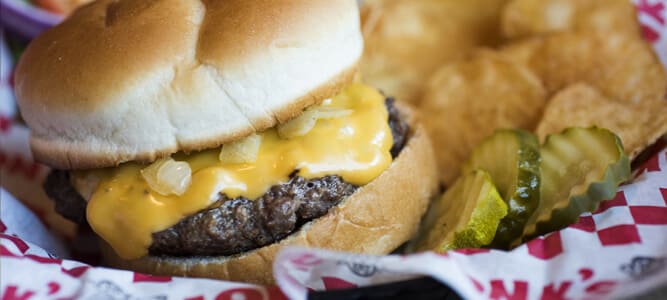 ---
The Distillery Burger is a true Wisconsin burger, topped with crispy white cheddar cheese curds, Monterey jack cheese sauce, romaine lettuce, tomato, and red onion. The perfectly seasoned burger is partnered with crispy tater tots – a meal to be savored and remembered.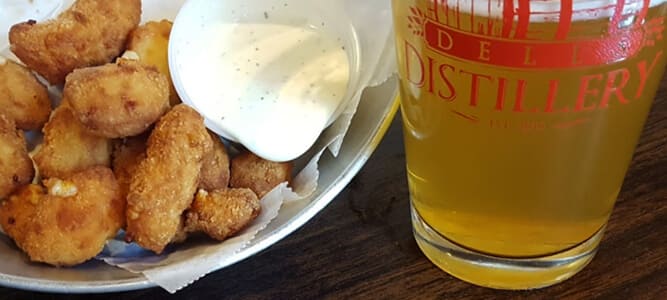 ---
B-Lux offers up gourmet burgers with a contemporary atmosphere. Each burger is marked with a Signature "B" branded on the bun. Be sure to pair your burger with a delicious hard (alcohol infused) shake. Try the Morning After Burger, perfectly grilled and seasoned fresh patty topped with smoked bacon, fried egg, sharp cheddar and sriracha mayo. The perfect brunch option for you or your gang!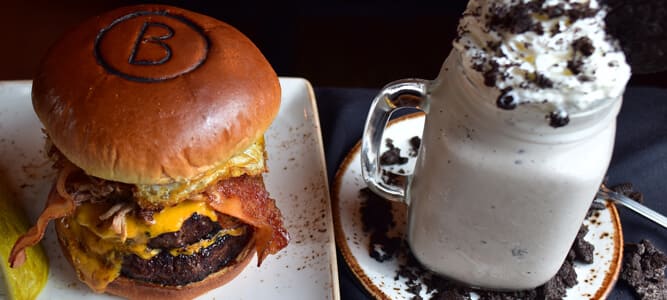 ---
If you have a big appetite you may want to check out the three-pound burger at Bobbers. The Big Juicy Bobber Burger Challenge has 2 patties smothered with American cheese, jerk-pulled pork, BBQ sauce, grilled onion, bacon, lettuce and tomatoes. If you finish this savory burger by yourself in less than 30 minutes, you will receive a free t-shirt. Just remember not to fill up on the tasty beer-battered fries first.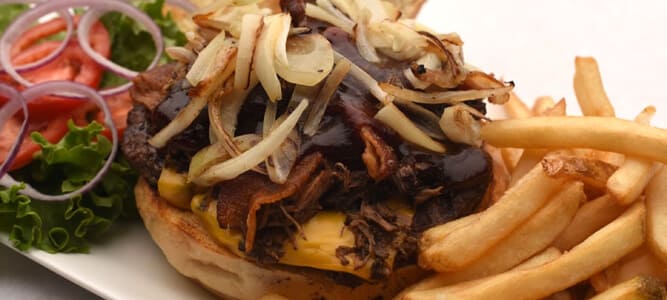 ---
Looking for a burger with a kick? Be sure to check out the Pepper Place Burger at the Keg where the toppings include "The Reaper" seasoning. This memorable seasoning from Pepper Place down the street smothers the burger, along with 5-pepper salsa and served with pub chips… yum!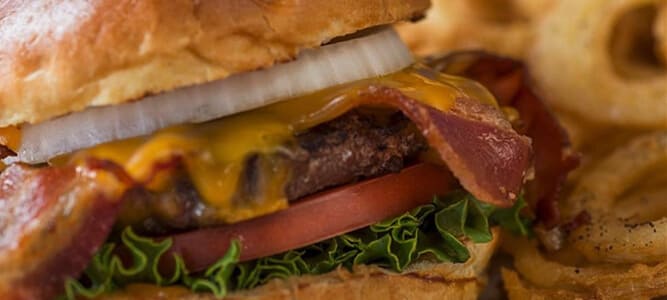 ---
All of these great restaurants include an extensive menu sure to please everyone, however, we challenge all you fellow burger lovers to try one of these unique sandwiches on your next trip to the Dells!