Buy One, Get One! That's definitely a phrase most of us like to hear. Whether traveling to Wisconsin Dells as a couple, with some friends, or even your whole family, being able to get a good discount is a priority for most of us. Lucky for you, there are multiple ways to score BOGO deals while visiting the Dells. Below are our two favorites!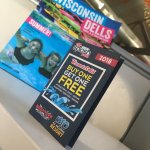 The Super Splash Pass is a fold-out card the size of a credit card, but holds way more value! This little pass entitles you to 180 BOGO deals! You heard that right! I challenge you to use this card every day of your Dells getaway! These deals include admission to attractions, shopping deals, golf course green fees, and even restaurant deals! 2-for-1 pizza, here I come! The best part is that there are over 75 beer & cocktails for different area establishments built into this card! For only 10 bucks, the Super Splash Pass pays for itself in just one use! Get yours HERE!
The Original Wisconsin Dells Coupon Book holds over 350 different coupons to Wisconsin Dells area and Statewide attractions, dining, golf, lodging, & shopping. Besides the hundreds on BOGOs in this book, there are also many "up to 50% off" deals! Whether seeking a half-price appetizer or a percentage off your hotel stay, we know the Wisconsin Dells Coupon Book can save you tons of moola on your next trip to Wisconsin Dells. Check it out HERE!