Snakes, gators and toads, oh my! Previously just titled Alligator Alley, this unique attraction now offers more than just scaly reptiles. They have recently expanded to include the haunting Castle of Terrors, Wisconsin Dells' fastest go-karts and…bungee jumping! Whether a lover of animals, a thrill seeker, or both, you are sure to enjoy all that Alligator Alley Adventures has to offer.
Beginning with the place that started it all, Alligator Alley holds creatures you most certainly have never seen before. They also give you the chance to get more up close and personal than any other zoo or park and still provide safe boundaries. Greeting people upon first entering are a small group of two-headed turtles, the stars being a pair called Bert and Ernie. Not far from them is another two-headed wonder that happens to be a snake. Of course the center attraction is a massive pen filled with full grown, fear striking alligators. Other animals you can see include: golden snapping turtles, crocodiles, exotic lizards, several pythons, including one that weighs 400 pounds, and many more!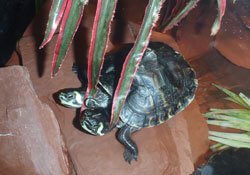 For a wild experience, you can purchase food for any of the reptiles and watch them feed. Brave enough to hold one of these animals? Pictures with a snake or alligator are also available for a souvenir you will love showing off to all of your friends. The main lobby has many other memoirs available for purchase, including small critters that make truly unique pets. Alligator Alley is a great deal for the whole family because once tickets are purchased, you can come back as many times as you'd like for two days.
If reptiles are not your thing, Alligator Alley Adventures has three other heart-pounding attractions. For the ultimate adrenaline inducing thrill, take a leap of faith with their 130 foot tall bungee jump! Looking for something a little less extreme? Have a scream inside the creepy dungeons of the Castle of Terror. Enter only if you dare, this is not for the faint of heart. If you could care less for bone-chilling castles but have a need for speed, test out your racing skills on the fastest go-karts around. Loser has to feed the Burmese python? You're on!
Alligator Alley Adventures is owned and operated by Orlando Pedroza and his wife. He started in Wisconsin Dells with Alligator Alley in 1999 and built an extension in 2003 in order to house more reptiles. This is the space you will see today which was built entirely by the Pedrozas with the help of some friends. They are currently redecorating the entire area and have so far created a beautiful facility. Mr. Pedroza has a large interest in reptiles along with an energy for them that only adds to all of his knowledge and experience; including with animals of the aggressive nature.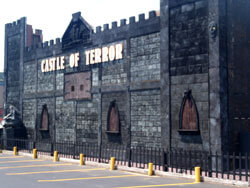 When asked how he got started in the reptile handling business, Mr. Pedroza had this to say "I have always had a love and fascination for reptiles and have raised them since I was a kid. I started out as a zoo keeper and my passion grew into owning my own business."
Alligator Alley Adventures provides a truly unique experience for the whole family with plenty of thrills and chills to go around. This is an attraction that is of the must see nature while visiting the Wisconsin Dells area.
Alligator Alley Adventures has summer hours of 10 a.m. until 9 p.m. and is open all week long. Tickets into Alligator Alley cost $5.95 for children and $6.95 for adults and include a two day pass. They are located across the street from Mt. Olympus Water and Theme Park.
They will be having a Grand Reopening on Saturday, June 18th and Sunday, June 19th, with discounts on all their attractions! For the weekend, bungee jumping will be $24.95, and go-karts and the Castle of Terror will cost $4.95. Alligator Alley will be $1 off the admission fees listed above.
For more information on Alligator Alley Adventures contact them at 608-253-4800 or visitwww.dells.com.
Find more information on Wisconsin Dells Attractions