When you live in a city where tourism is one of the biggest industries, you know you're surrounded by businesses that compete to be the best at attracting visitors from out of town.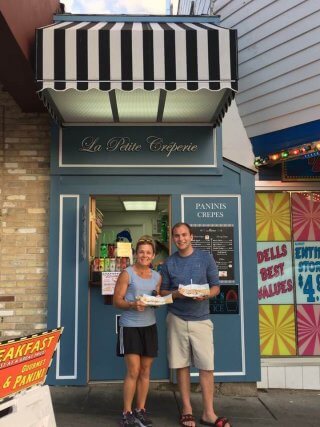 There are many advantages to living in Wisconsin Dells. From the fun vibe Downtown on those summer nights to great shops and restaurants, and those quirky businesses that pop up out of nowhere, sometimes it can be fun to be a tourist in your own city! As a local, there are many places we like to frequent with our friends and family, here are a few of the good ones!
1) Showboat Saloon
On Tuesday's & Thursday, Showboat Saloon is the go-to lunch spot for many at our office. You know why? Because they offer 1/2 Priced chicken wings all day! There are over a dozen different sauces to choose from, and I recommend getting a side of ranch with your wings, it's made in-house! If you're dining on vacation, you can enjoy one of their 30 tap beers & ciders for only $2.50 from 11am-6pm Monday thru Thursday and all day Sunday. 
2) Sarento's
After work, I like to kick back and relax at Sarento's Italian Restaurant. On Thursday's & Sunday's in the bar, they offer 1/2 Prices Appetizers. If you haven't tried their Three Cheese Ravioli yet, you're in for a treat on your next visit. On select nights, you can also enjoy live music in the bar & lounge area.
3) High Rock Cafe
Driving downtown, you may have noticed High Rock Cafe at the corner of Broadway & Oak Streets. This locally-owned boutique restaurant features a fabulous menu. What makes this place interesting is every few weeks they feature a new food ingredient on their ever-changing Season's Freshest Menu. This addition to the regular menu includes new appetizers, entrees, and even desserts with the ingredient of their choosing. The last time I was at High Rock Cafe, it was Peppers, and the dessert was a yummy Jala-Chocolate Cheesecake.
4) Mirror Lake State Park
For those of you into nature, you know the Dells is surrounded by many beautiful State Parks. Just 5 minutes south of Wisconsin Dells is Mirror Lake State Park. Mirror Lake offers a great place to kayak, surrounded by a dense forest and peaceful pine trees. Many people don't know this, but you can actually kayak from Mirror Lake to Lake Delton. There's just a small spot where you need to portage your kayak over Timme's Mill, also known as the Mirror Lake Dam. It's a low-flow Dam, and easy to see for those of you worried about safety.
5) Cambrian Overlook
On the northern side of Wisconsin Dells, just off Highway N is the Cambrian Overlook. Once you park, take in the beauty overlooking the widest part of the Wisconsin River. There's a pathway leading down to what used to be an old boat launch where you can put in your kayak or take a swim.
6) Redbeard Bowfishing Charters
If you enjoy fishing, then you'll enjoy taking it to a whole new level on the Upper Dells like some of the locals do by taking a Redbeard Bowfishing Charter. There are Day Bowfishing Charters and Night Bowfishing Charters where you can fish with a crossbow! The Compound Bow, Crossbow & Recurve are all provided on the trips, you just pack your own cooler of drinks and snacks.
7) Triple Play Sports Bar & Grill
Just outside the Dells, take the 15 minute drive out of the hustle & bustle of Downtown Wisconsin Dells to get out to Triple Play Sports Bar & Grill out on Highway 16. There, you'll find some of the best Cheese Curds in Wisconsin! You will not regret it. They also have great thin crust pizza, and oh, it's a great place to watch the fall football games.
8) Newport Beach
When the weather is nice, Newport Beach is the Dells largest public beach and offers a stunning view of the Wisconsin River. Watch the Duck Boats drive by while enjoying a picnic or a swim. There's also a boat launch on site, and adjacent River's Edge Pub & Grub where you can fill up your stomach!