For 2016 Buffets, please CLICK HERE!
November 26, 2015 – Coming to Wisconsin Dells this Thanksgiving? Put your feet up and let the restaurants and resorts of Wisconsin Dells take care of dinner this year. More time making memories and less time in the kitchen… sounds perfect! Wisconsin Dells is home to a variety of fantastic Thanksgiving buffets that will fill your stomach and heart with warmth! Make Wisconsin Dells your new family tradition!
Wilderness Hotel & Golf Resort will be offering a mouth-watering Thanksgiving Buffet on November 26 from noon until 8pm at their Wild Canyon Café (just off the New Frontier Lobby). The feast provides a wide variety of food including hand-carved roasted turkey breast, maple and mustard glazed salmon, pork loin, mashed potatoes and gravy, squash tortellaci and much more! There will also be a salad bar and a dessert station featuring apple & pecan pie, pumpkin pie and cheesecakes. Reservations are recommended, call 608.253.9729 ext. 4241
Kalahari Resort Head to Kalahari for a Thanksgiving celebration like no other. Experience their incredible Thanksgiving Buffet on November 26! Entrées include roasted Tom turkey, savory stuffing, prime rib, smoked ham and more. Save some room on your plate for deviled eggs, toasted almond cranberry wild rice and glazed butternut squash. The buffet will run from 11am-6pm. Reservations are strongly requested. Call (608) 254-3217 for more information.
Field's at the Wilderness will be serving a delicious Thanksgiving Meal on November 26 from noon – 7pm. The meal will include salad, banana and cranberry bread, oven roasted turkey, corn, pumpkin pie and more! For reservations call (608) 253-1400.
Trappers Turn Golf Club will be serving an incredible Thanksgiving Celebration Buffet on November 26 starting at 11:00 am. The buffet will consist of an unbelievable assortment food including roasted tom turkey, carved smoked ham, baked Atlantic haddock, a variety of enhancers, full salad bar, dessert station and more! Reservations are required. Call (608) 253-7000 for more information.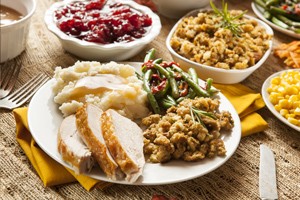 Chula Vista Resort will be serving a Grand Breakfast, Brunch and Dinner Buffet on November 26. Meals will consist of a large variety of delicious Thanksgiving cuisine. Reservations are suggested. For more information call (608) 254-1635.
Ho Chuck Gaming is featuring their Thanksgiving Stand Rock Buffet on Thursday, November 26th from 10am-3pm and 5pm-8pm. Enjoy carved to order turkey, mini chicken cordons, ribs, seafood, steak, burgers, green bean casserole, many delicious sides, and a never-ending dessert table!