4febAll DayWinter Carnival at Christmas Mountain(All Day: saturday) Christmas Mountain
Location
Christmas Mountain
S944 Christmas Mountain Road, Wisconsin Dells, WI 53965
Event Details
Enjoy a day full of fun for the whole family during the Winter Carnival at Christmas Mountain Village in Wisconsin Dells. Come and enjoy a day of great winter activities: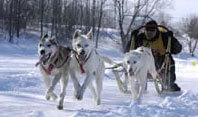 10:00am – Ski Hill & Tubing Open
10:00am – Gilly's Wood Splitting
10:00am – Prize Dig
10:30am – Golf Long Drive Competition – Pines #9
11:00am – Snowball Launch
11:30am – Closest to the Flag Competition – Pines #9
12:00pm – Face Painting
12:30pm – 3rd Annual Card Board Derby Races
1:00pm – Wood Splitting Finals
1:30pm – Dog Weight Pulls
2:00pm – Newlywed Game – Sign up in Mulligan's 10am-1pm
3:00pm – Bikini/Boxer Ski Races – Bunny Hill
4:00pm – Ski across the Water Competition
5:30pm – Half Barrel Toss
6:00pm – Marshmallow Roasting with Camp Fire Kevin
9:15pm – Torchlight Parade
9:30pm (Approx)- Following the Torchlight Parade – Fireworks & Live Music in Mulligan's Bar & Grill
And of course Skiing, Snowboarding & Tubing!!!
*Events and Times may Change
All activities are located at Christmas Mountain
S944 Christmas Mountain Road, Wisconsin Dells, WI 53965
Free spectator admission