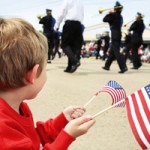 Independence Day is the national holiday of the United States, and is always celebrated on the 4th of July. It commemorates the adoption of the Declaration of Independence on July 4, 1776, beginning the nation's fight for independence from the Kingdom of Great Britain.
All over America, in every town, village and city, the holiday is associated with parades, out door barbecues, myriad carnivals, city fairs, picnics, patriotic concerts, baseball games and family reunions. It's a day for passionate speeches, fireworks, traditional ceremonies, and various other events that celebrate the history, government, and customs of the United States.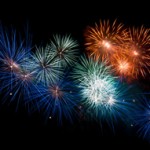 The City of Wisconsin Dells has its own fireworks, which is easily seen from just about anywhere in the city limits. Some of the larger resorts and waterparks such as the Wilderness, the Kalahari, and Mount Olympus stage their own fireworks displays as well.
The safest way to enjoy fireworks is to attend a public display conducted by trained professionals. Arrive early and enjoy a picnic on the lawn, and stay to enjoy the fireworks. After the fireworks, children should never pick up fireworks that may be left over on the ground, as they may still be active!
Keep Your Kids Safe Around Fireworks
Although fireworks are a summer tradition for many people, injuries from fireworks happen frequently. If you are using consumer fireworks, you should follow a few common sense safety tips:
Always obey local laws. If using fireworks is not legal where you are, do not use them.
Only use fireworks outdoors.
Always have a good supply of water handy.
Never, ever try to relight a "dud" firework. Wait at least 20 minutes, then soak it in a bucket of water.
Alcohol and fireworks do not mix. Appoint a designated person to set off the fireworks. Spectators should always keep a safe distance from the "shooter", and the shooter should wear safety glasses.
Sparklers of any type should only be handled by persons over the age of 12.
Use fireworks as intended, and don't alter or combine them.
Do not use homemade fireworks or illegal explosives! They can kill you!
Report illegal explosives to the fire or police department in your community.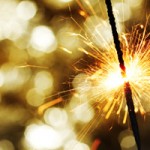 Fireworks on the Fourth of July are as American as apple pie, but more fires are reported on that day than any other day.
Please celebrate our nation's heritage on the Fourth of July and remember to celebrate safely. Safe and responsible use will eliminate injuries. Have a safe, enjoyable time on the Fourth of July celebrating the cheerful times of red, white and blue.