For Halloween 2016 Activities, please click here!
Spooky Halloween Activities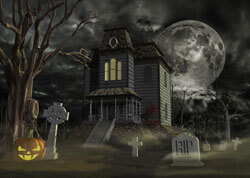 Come to Wisconsin Dells for the Halloween season and experience all things terrifying this October. Whether you are looking to stare fear in the face or enjoy more mellow Halloween activities; Wisconsin Dells has got you covered!
 Start off your Wisconsin Dells Halloween experience with a Ghost Boat "Season of the Witch" moonlit cruise on the mysterious Wisconsin River. Listen to the spine-tingling haunted tales of the Dells while aboard this 1.5 hour tour. The tour also includes a daring hike through the pitch-black gorge at Witches Gulch. Tours run September 19-November 1 on Friday and Saturday nights. Call the main ticket office for more details (608) 254-8555.
Wilderness Hotel & Golf Resort has plenty of Halloween activities for families to enjoy. Every day in October, The Wilderness be hosting two fun Halloween-themed activities for guests. Ken-Ducky Derby Halloween Duck Races at 9:30am; and a craft project creating "Trick or Treat" bags from 10am-4pm. Every Saturday in October, the resort will also be offering horse-drawn wagon rides to their mini-pumpkin patch from 10am-1pm; and costumed trick-or-treating around the resort from 2-4pm. Friday, October 31st, the Wilderness will be hosting a mega Family Halloween Bash, including costume contest and prizes! For more information call 1(800) 867-9453.
Watch your back at Dells Zombie Outbreak! Travel through an apocalyptic military base overrun with zombies clearing the undead and surviving the mission. This new Wisconsin Dells attraction combines the finest of laser tag and haunted houses with the threat of zombies! Dells Zombie Outbreak will be holding special Halloween hours on Oct. 24-26, 31 and Nov. 1 (Friday 5-11pm, Saturday 2-11pm and Sunday 1-7pm). For more information call (608) 678-2900.
Mt. Olympus Water & Theme Park will be hosting trick-or-treating througout their theme park during weekends in late September thru October. Guests can dress up in their favorite Halloween Costumes and collect candy at select rides. This event is not so scary and is appropriate for all ages. For more information call (800) 800-4997. Club Wett will also be hosting a Halloween Bash on October 31st and November 1st featuring DJ Reckless, costume contests and more.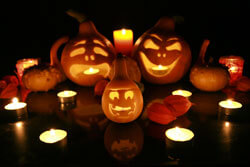 Red Ridge Ranch is always a favorite around Halloween with their Haunted Corn Maze and Haunted Hay Rides. Halloween activities begin September 20th, and the haunted activities start October 3rd at 6pm and run Friday and Saturday nights. Red Ridge Ranch is located near Wisconsin Dells in Mauston. 
Face your fears at the Ghost Out-Post Haunted House for a fun and scary experience you will surely remember. Hope you aren't afraid of the dark! For more details call (608) 254-2127.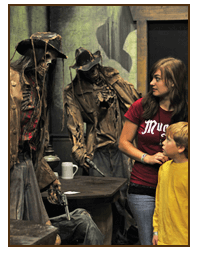 Trick-or-Treat Tanger Style at Tanger Outlet Center for a Spooktaclular Halloween experience. Trick-or-Treating will run from 4 pm-6 pm on October 31, 2014. There will also be a costume contest. For more information call (608) 253-5380.
Right next door to the Tanger Outlet Center, Knuckleheads Bowling & Indoor Amusement Park also will have trick-or-treating for their guests. Trick-or-treating at Knuckleheads will be held October 24th, 25th, 26th, 31st, and November 1st and 2nd. They will also have a Family Friendly Halloween Costume Contest on October 31st. For more information call (608) 254-7332.
October brings ghoulish good times to Chula Vista Resort. From October 11 to November 1, fun games, crafts, activities and more will be happening at the Cactus Kid's Corral (located in the waterpark tunnel). The resort will be offering trick-or-treating, a costume contest and monster mash dance party on November 1st. New this year is the 7+ acre Chula Vista Corn Maze. This high-tech corn maze features an artistic pattern of golf courses, waterslides, steak and lodging. The maze also features a wide range of kid's activities, food and drinks. Chula Vista's new fall attraction is open Friday from 4 pm-10 pm, Saturday from 11 am-10 pm and Sunday from 11 am-6 pm.
If you are looking for Halloween entertainment without ghosts and goblins check out the Riverside & Great Northern Railway Pumpkin Train Rides. Children will receive pumpkins as gifts and enjoy a fun miniature train ride. The Pumpkin Trains run every weekend in October. For more details call (608) 254-6367.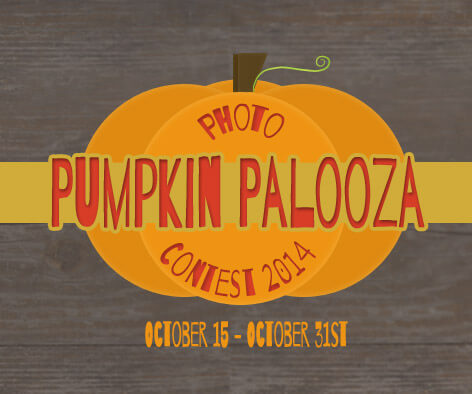 See if you have what it takes to win the Dells.com 2014 Pumpkin Palooza Photo Contest! Showcase your creativity while participating in a favorite fall tradition. Get your glue guns, carving knives and paint brushes ready because this contest features your epic pumpkin decorating skills. The prize is a hot off the press, 2015 Wisconsin Dells Coupon Book with over 550 coupons inside amounting over $20,000 in savings!
Check out the Mid-Continent Railway Museum for another great railroad Halloween experience. They will be offering Autumn Color Weekends, a scenic train ride through the beautiful Sauk County area October 4-5 and 10-12. They also have a Pumpkin Special consisting of a train ride to their pumpkin patch October 18-19. Guests will be able to select their own small, medium or large pumpkin. For more information call (800) 930-1385.
The Reef at Marley's will be hosting Halloween activities on the evening of October 31st. This year's party will have a DJ starting at 9pm, cash prize costume contests, games, giveaways and drink specials.
The Friends of Mirror Lake & Mirror Lake State Park host a Halloween Mystery Candlelight Hike on October 18 from 6 pm-8 pm. Help the Rangers discover a mystery guest! There will be bonfires to relax by and food and beverages available for purchase. Costumes are welcome and event is free admission. WI State Park sticker required. For more information call (608) 254-2333.
Showboat Saloon has a two-day Halloween bash! Starting on Thursday, October 30th, Newport Jam will be performing live music at 10pm (free bacon will be served)! Showboat Saloon will also be hosting live music by Soap on Halloween Friday (10:30pm), along with a light show and costume contest!
The Lake Delton Lions Club will be hosting a Halloween Party on October 31 at 6:15pm at the Lake Delton Elementary School. All children in attendance will receive free candy and a complimentary gift. There will also be a costume contest with cash prizes. Following the costume contest is the candy dash. Popcorn and candy are scattered across the gym floor and and children are allowed to grab as much as they can in 5 minutes. Event is free donations are appreciated. For more information call (608) 254-2558.
Chalet Lanes & Lounge in downtown Wisconsin Dells will also be hosting a Halloween Bash on October 31st. Come in costume and try your hand at Halloween karaoke! For more information call (608) 254-8727.
Spring Brook Sports Bar & Grill is hosting the live, musical talents of the Mr. Burgundy Duo from 6:30-9:30pm on Friday, October 31st. The party continues on Saturday, November 1 with a costume contest, food and drink specials, and DJ/Karaoke from 9pm-midnight. For more information call (608) 254-1490.
If you want to get a good breakfast in before your Halloween activities; IHOP in Wisconsin Dells will be offering children 12 and under a free "Scary Face" pancake on October 31!
Wisconsin Big Cat Rescue is hosting their 7th annual Trick-or-Treat with the Big Cats this Halloween. There will be 29 different big cats including lions, tigers and leopards waiting to give out lots of candy. You won't want to miss out on this one of a kind trick-or-treating experience. Event is free admission and runs from 11am-6pm on October 26. Wisconsin Big Cat Rescue is located near Wisconsin Dells in Rock Springs. For more information calll (608) 524-5466.
Ho-Chunk Gaming Wisconsin Dells will be hosting their Chills and Thrills Halloween Costume Contest, featuring up to $20,000 in cash prizes on October,31 2014. Wo-Zha-Wa Sports Bar and Grille will also be hosting their Annual Costume Contest featuring cash prizes on November 1, 2014.
Check back for additional Wisconsin Dells Halloween updates and events.